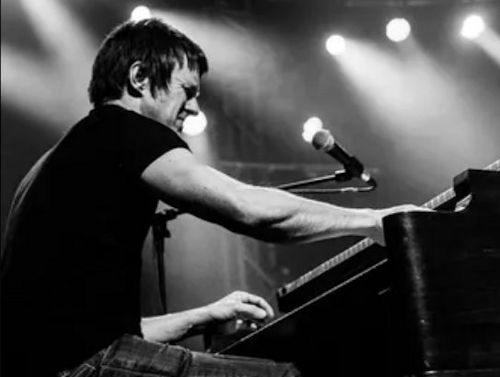 The Stevie Watts Organ Trio are all highly regarded session players having worked with names ranging from Secret Affair, Steve Winwood, Archive to The Spice Girls.
Stevie met Nat Martin when working together in singer Jo Harman's band where they quickly bonded personally and musically. Stevie's drummer friend Vinnie Lammi was recruited then on a Christmas gig Stevie met Alice who was then invited to write vocal parts to some tracks that Stevie had written and their debut album Mission to the Moon came together on a boat in Shoreham by Sea.
The fire and energy in the sound that these three make defies the fact that they're a trio and when Alice joins them they turn into something that no other band (with organ bass) using this format sounds like. Take outstanding players with great songs that lift your spirit, make you dance as well as cry (in a good way!), include infectious funk and rip-roaring solo's and you have something that you would be absolutely crazy to miss!
Alice Armstrong is a multi UK Blues Awards nominated singer-songwriter from the UK, known for her wide vocal range, unconventional lyrics, long red hair and enigmatic delivery, topped off with light-sensitivity glasses and an unrivalled love for chips.
After gaining a following fronting and writing for the Crossfire Blues Band with celebrated young guitarist Marcus Praestgaard-Stevens, Alice spent the last few years on the stage of many of the UK's biggest rhythm & blues festivals, completed a European tour and featured in both the 2020 and 2021 UK Blues Awards, singing alongside renowned musicians on a lockdown-cover of 'Soulshine' by the Allman Brothers.
Teaming up with the Stevie Watts organ trio to write the positively received album 'Mission to the Moon', they hit number 12 on the IBBA top played list for 2020 and earned a nomination at the 2021 UK Blues Awards for band of the year.
Alice credits Ella Fitzgerald, Etta James, Aretha Franklin, Donnie Hathaway, Amy Winehouse, Peggy Lee and Dinah Washington to be her main musical influences, peppering her performances with her trademark sense of humour.
_____________________________________________________
Sources: https://steviewatts.org/press-kit
https://www.alicearmstrongmusic.co.uk/press-kit
_____________________________________________________