LATEST FESTIVAL NEWS
Article from 'The Cumberland News' :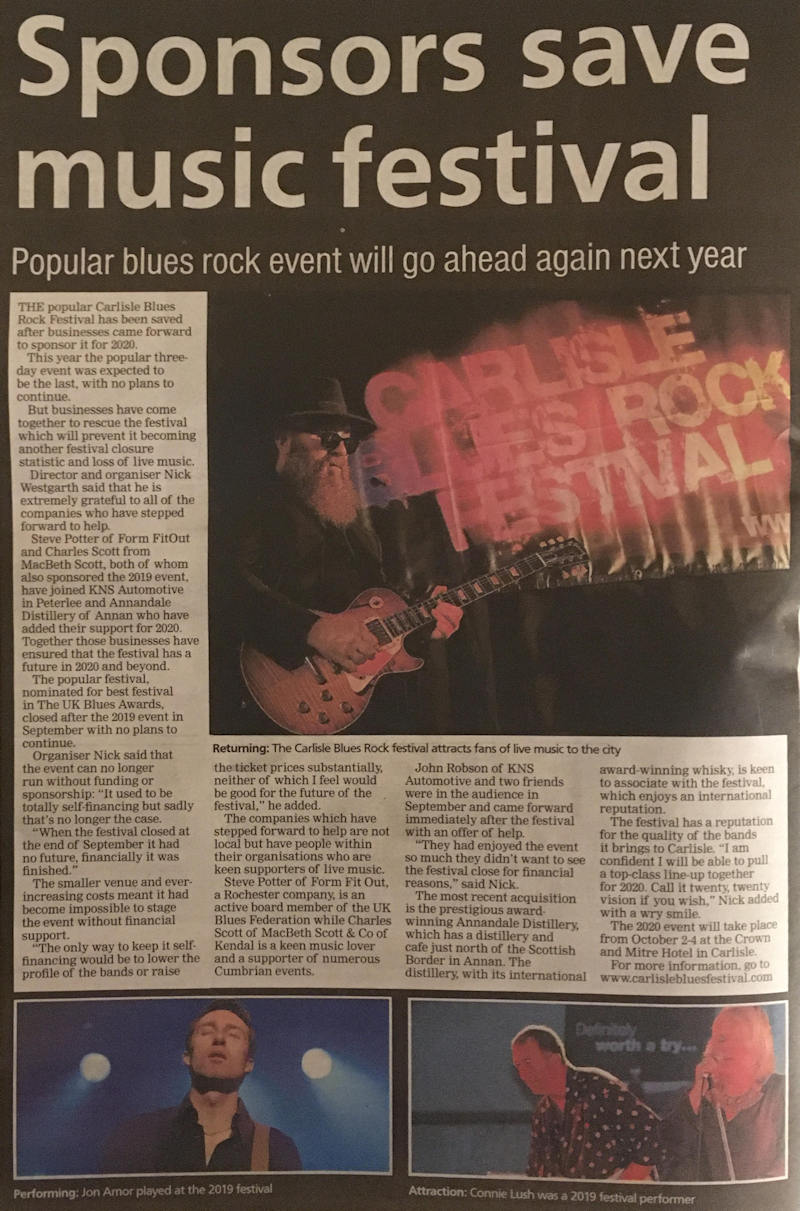 Here's the text version of the article:
The popular Carlisle Blues Rock Festival has been saved after businesses came forward to sponsor it for 2020.
This year the popular three-day event was expected to be the last, with no plans to continue. But businesses have come together to rescue the festival which will prevent it becoming another festival closure statistic and loss of live music.
Director/Organiser Nick Westgarth said that he is extremely grateful to all of the companies who have stepped forward to help.  Steve Potter of Form FitOut and Charles Scott from MacBeth Scott, both of whom also sponsored the 2019 event, have been joined by KNS Automotive of Peterlee and Annandale Distillery of Annan who have added their support for 2020.  Together those businesses have ensured that the festival has a future in 2020.
The popular festival, nominated for best festival in The UK Blues Awards, closed after the 2019 event in September with no plans to continue.
Organiser Nick said that the event can no longer run without funding or sponsorship: "It used to be totally self-financing but sadly that's no longer the case. When the festival closed at the end of September it had no future, financially it was finished."
The smaller venue and ever-increasing costs meant it had become impossible to stage the event without financial support.
"The only way to keep it self-financing would be to lower the profile of the bands or raise the ticket prices substantially, neither of which I feel would be good for the future of the festival," He added.
The companies which have stepped forward to help are not local but have people within their organisations who are keen supporters of live music.
Steve Potter of Form FitOut, a Rochester company, is an active board member of the UK Blues Federation while Charles Scott of MacBeth Scott & Co in Kendal is a keen music lover and a supporter of numerous Cumbrian events.
John Robson of KNS Automotive and two friends were in the audience in September and came forward immediately after the festival with an offer of help.
"They had enjoyed the event so much they didn't want to see the festival to close for financial reasons," said Nick.
The most recent acquisition is the prestigious award-winning Annandale Distillery which has a distillery and cafe just north of the Scottish Border in Annan.  The distillery, with their international award-winning whisky is keen to associate with the festival, which enjoys an international reputation.
The festival has a reputation for the quality of the bands it brings to Carlisle.  "I am confident I will be able to pull a top-class line-up together for 2020.  Call it twenty, twenty vision if you wish," Nick added with a wry smile.
The 2020 event will take place from 2nd to 4th October at the Crown & Mitre Hotel in Carlisle.
____________________________________________________________________________________
A big thank you to our sponsors for 2020 :