FESTIVAL NEWS FOR 2023….as 2022 draws to a close
Planning is already underway for the 2023 which is scheduled for Friday 6th October to Sunday 8th October and it will take place, once again at The Crown & Mitre Hotel.
An application or an Art's Council Grant for Grassroots Music has been submitted which would be a massive boost to the event if successful. It is likely to be seven or eight weeks into the new year before news on that filters through.
There was an excellent response to a Newsletter that went out in early November, after the government trashed the economy again. There was lots of very positive messages and support for the festival going forward in 2023 despite the very real likelihood high inflation and inevitable price rises. It's going to be a very difficult few weeks in the planning, budgeting etc. but the festival is committed to maintain the quality and high standards which helped to win the 2022 UK Blues Festival of the Year Award. Wouldn't it be great to win it again for last October's superb weekend?
LATEST FESTIVAL NEWS – 2022

On the news front there's BAD NEWS and GOOD NEWS
Bad News first – Jawbone have been forced to pull out of their Sunday slot at this year's festival. Disappointing, we'd been after Jawbone for a few years. Unfortunately Sir Tom Jones has announced a tour of the USA and of course Paddy (Milner) is an integral member of his touring band. He's also such a key member of Jawbone that it's just not possible for the band to gig without him.
The GOOD NEWS is that the slot will be filled by two legends in the UK Blues/Rock world. John Verity, probably best known for his time in 70's giants Argent and Del Bromham, founder and still a member of Stray, the one band of the 70's which should've made it really big!!
After much consideration it was decided that the average age of the bands needed to be raised. There was too many young 'uns on the bill!! Now that's something you don't hear being levelled at UK Blues Festivals too often!!
Joking aside, John and Del are a match made in Rock/Blues heaven, they've been mates for years and they're getting together to pay tribute to the bands and songs which have influenced them throughout their illustrious careers…..and they're both great characters, sure to put on a memorable show.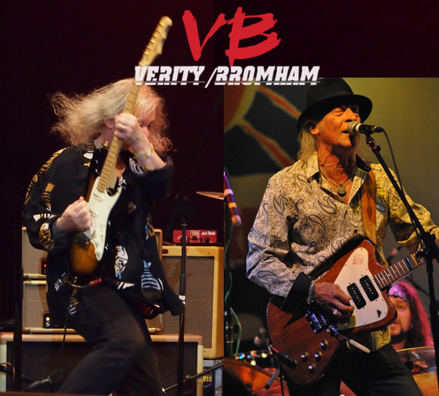 ______________________________________________
After Show Party
We regret that the Mike Zito and Albert Castiglia
After Show Party IS CANCELLED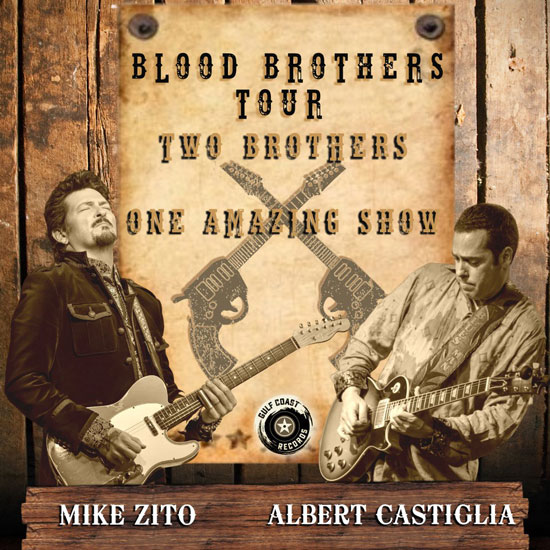 ______________________________________________
The Prairie Oyster Club and The Mentulls added to the Festival Line-up.
__________________________________________________________________________________
HISTORICAL FESTIVAL NEWS …..
LATEST FESTIVAL NEWS – 2021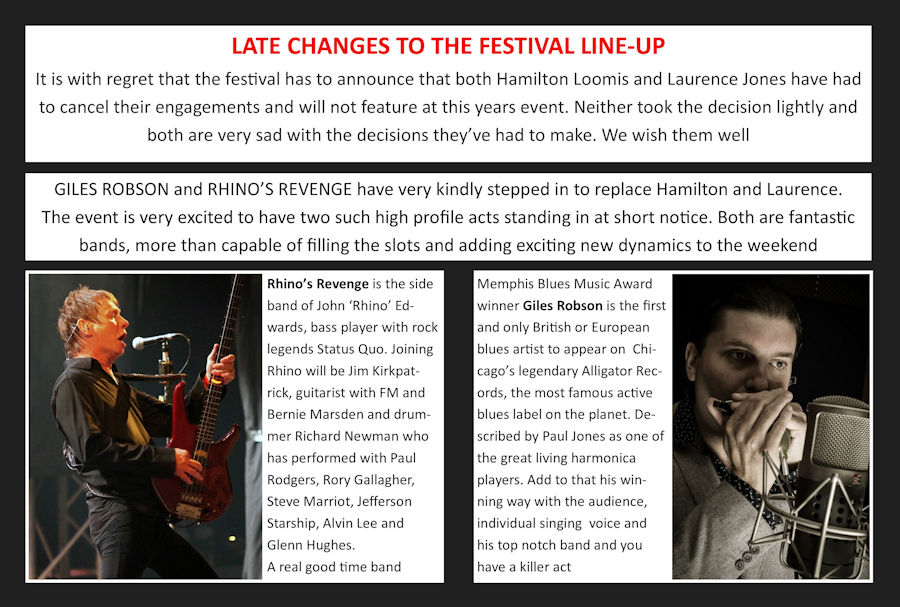 TWO MORE NAMES have been added to the already impressive line-up for the re-scheduled event in October.
Those names, a real bonus for the event, are Jimmy Carpenter USA and Redfish UK.
Jimmy Carpenter, a very special guest, all the way from Las Vegas and playing the last gig of his 2021 European tour, will close the event on Sunday evening with the fantastic Blues Move, an outfit which many will remember as the European backing band of the late, and great, Sherman Robertson.
Redfish is a welcome addition to the Saturday programme. The band, great friends of the festival, will get the evening session off to a blistering start and to set the tone for the rest of the evening.
IMPORTANT   IMPORTANT   IMPORTANT
FINISH TIME ON SUNDAY SLIGHTLY LATER THAN ORIGINALLY PLANNED
The additional act on Sunday 10th will mean that the festival will officially close slightly later than originally planned. It was planned to end at 6.30pm, it will now close at 7.15pm, so allow yourself a few extra mins to make sure you don't miss anything on this spectacular session.
REVISED SUNDAY SCHEDULE
12.30 – The Dusk Brothers
13.45 – Martin Harley Band
15.00 – Ian Siegal
16.30 – Jeremiah Johnson, Whitney Shay, Ryan Perry (Blues Caravan)
18.00 – Jimmy Carpenter & Blues Move
19.15    Festival Close
________________________________________________________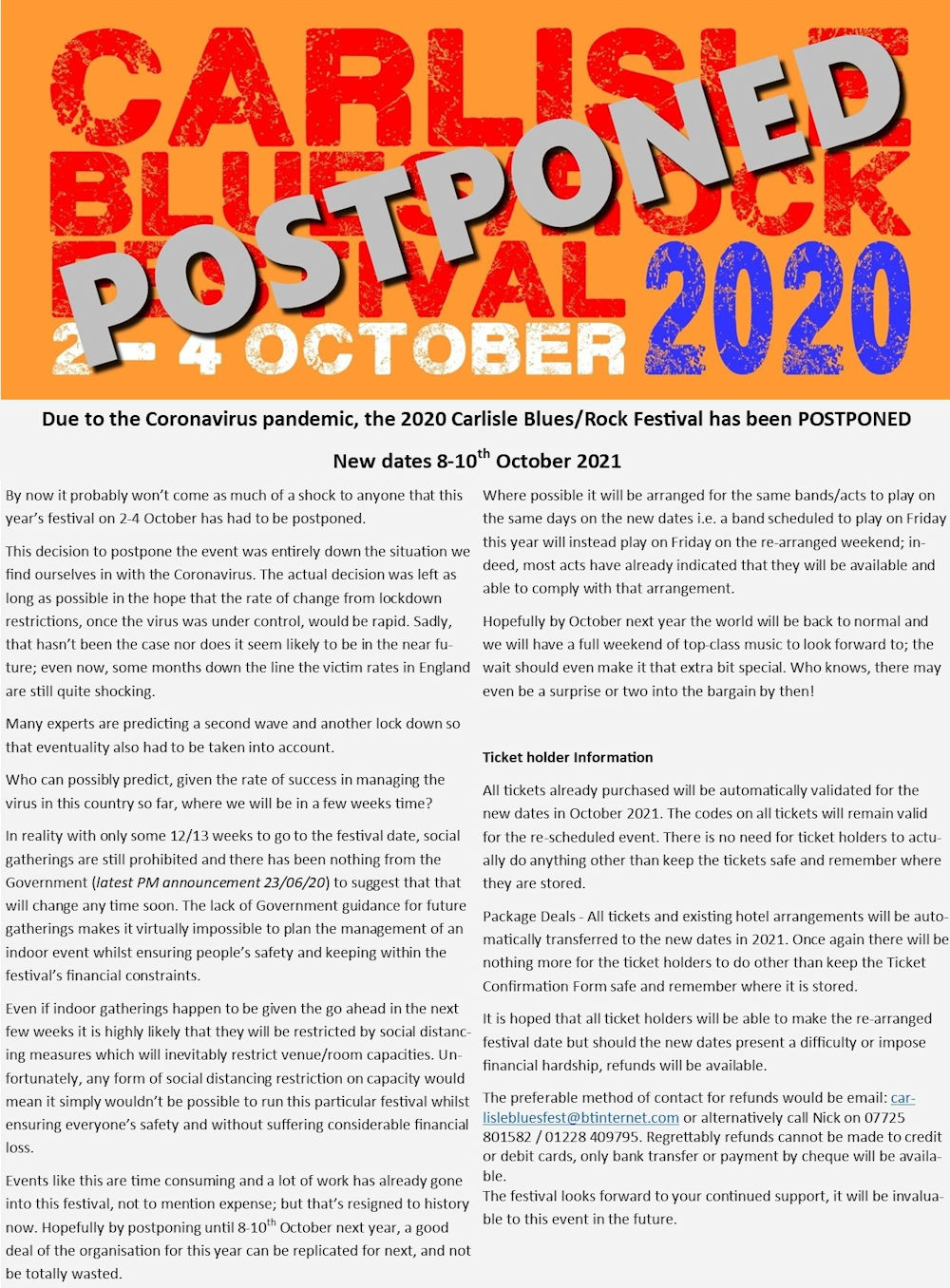 Article from 'The Cumberland News' :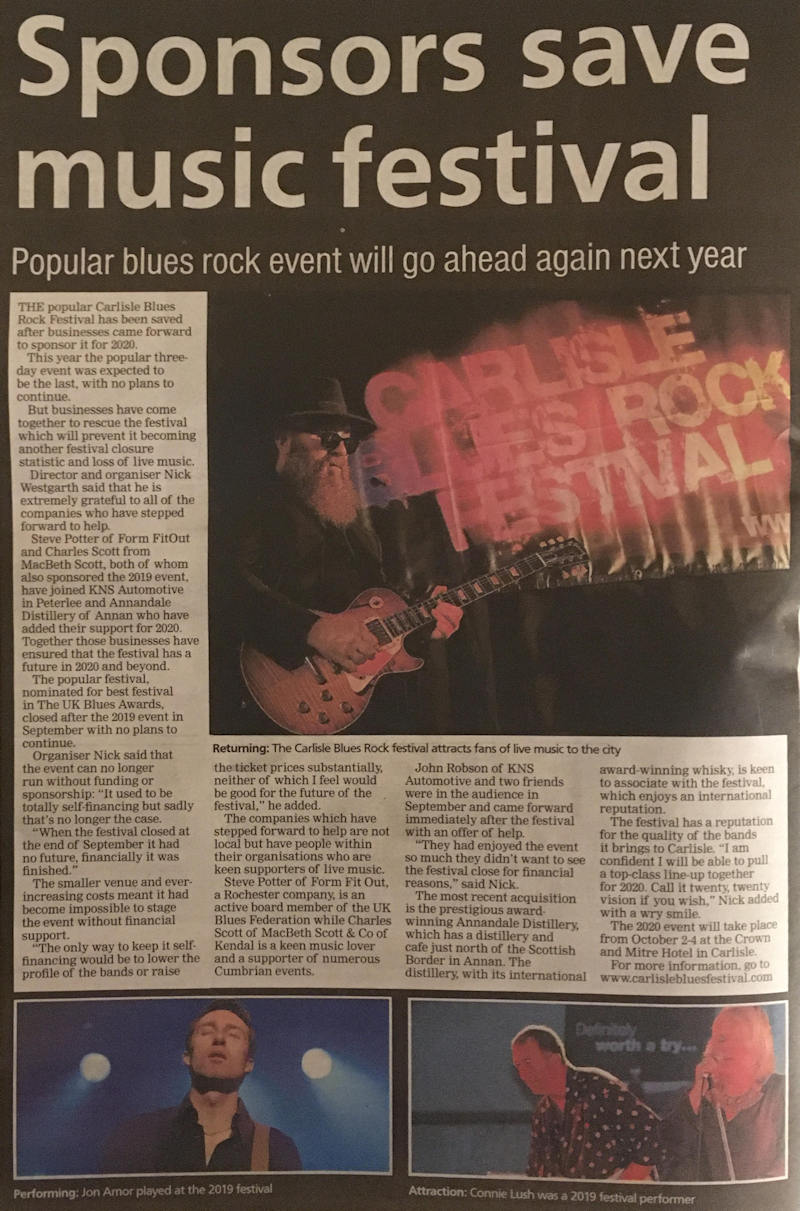 Here's the text version of the article:
The popular Carlisle Blues Rock Festival has been saved after businesses came forward to sponsor it for 2020.
This year the popular three-day event was expected to be the last, with no plans to continue. But businesses have come together to rescue the festival which will prevent it becoming another festival closure statistic and loss of live music.
Director/Organiser Nick Westgarth said that he is extremely grateful to all of the companies who have stepped forward to help.  Steve Potter of Form FitOut and Charles Scott from MacBeth Scott, both of whom also sponsored the 2019 event, have been joined by KNS Automotive of Peterlee and Annandale Distillery of Annan who have added their support for 2020.  Together those businesses have ensured that the festival has a future in 2020.
The popular festival, nominated for best festival in The UK Blues Awards, closed after the 2019 event in September with no plans to continue.
Organiser Nick said that the event can no longer run without funding or sponsorship: "It used to be totally self-financing but sadly that's no longer the case. When the festival closed at the end of September it had no future, financially it was finished."
The smaller venue and ever-increasing costs meant it had become impossible to stage the event without financial support.
"The only way to keep it self-financing would be to lower the profile of the bands or raise the ticket prices substantially, neither of which I feel would be good for the future of the festival," He added.
The companies which have stepped forward to help are not local but have people within their organisations who are keen supporters of live music.
Steve Potter of Form FitOut, a Rochester company, is an active board member of the UK Blues Federation while Charles Scott of MacBeth Scott & Co in Kendal is a keen music lover and a supporter of numerous Cumbrian events.
John Robson of KNS Automotive and two friends were in the audience in September and came forward immediately after the festival with an offer of help.
"They had enjoyed the event so much they didn't want to see the festival to close for financial reasons," said Nick.
The most recent acquisition is the prestigious award-winning Annandale Distillery which has a distillery and cafe just north of the Scottish Border in Annan.  The distillery, with their international award-winning whisky is keen to associate with the festival, which enjoys an international reputation.
The festival has a reputation for the quality of the bands it brings to Carlisle.  "I am confident I will be able to pull a top-class line-up together for 2020.  Call it twenty, twenty vision if you wish," Nick added with a wry smile.
The 2020 event will take place from 2nd to 4th October at the Crown & Mitre Hotel in Carlisle.
____________________________________________________________________________________
A big thank you to our sponsors for 2020 :