Words and Photos: Colin Campbell
Well, it's that time of the year again, to reflect on this award-winning Festival. In this reviewer's opinion, this certainly is the best in the UK. Very well organised as usual by Nick Westgarth and his associated crew. Sound and lighting were excellent throughout the weekend.
Cannot compliment the stage crew enough, just watching them clear the stage after every act is like a Magician's trick, especially taking down the full Rig at end of Festival. The fact that it is all in the same venue is also a bonus and for the ever-increasing age demographics, there were enough seats, hey even people danced during the sets! Feedback from artists was very positive also, including the Hospitality area and Games Room, Jenga seemed very popular with the artists. Anyway, onto the music…
FRIDAY:
The air of expectation was palpable in the Hall after everyone got their places for the weekend's entertainment. MC Gordon introduced all the bands his wit and delivery was the shape of things to come. He even did the raffle at the end of weekend, some great prizes. Alas some of us did not win. This was not the case when The Bad Day Blues Band came onto the stage, they entertained the rapt audience with their own brand of eclectic electric blues. Lead singer and bassist Adam Rigg started the show off with a great rendition of their tune The Cage, his guitar was the star, being hewn from wood from South America, great tone on this, tight band harmonica player Sam Spranger giving it gusto at any chance especially noted on Wandering Man, where the rhythm section came into their own with a wonderful backbeat.
Their soporific tune The Bad Day was also a highlight. This band was full of energy and vigour, each musician bouncing off each other and really enjoying themselves on stage. Jump had the audience tapping their feet and final tune Table By The Wall had a blues shuffle par excellence, cranking up the volume leaving the audience wanting more. A band on the rise and to catch them play live is a great experience, they put on a great set.
Second band on tonight was The Grainne Duffy Band whose set was another highlight of the weekend. The interplay between Grainne and Paul Sherry on lead guitars is at times spellbinding and there were also some great harmonies throughout the set. Starting with Voodoo Blues with its dark ethereal blues tones you just knew this was going to be a great set. Mercy was another stand out tune, Grainne's vocal delivery superb. Another band who reflected a jovial atmosphere on stage that connected with the audience. Good Love Had to Die from the album Out Of The Dark was pure full-on blues, great rhythm passionate lyrics this had it all and the sound filled the Hall, some haunting guitar licks made this another special performance.
Test Of Time was upbeat with some audience participation, great chorus. Keeping the best to last; I'd Rather Go Blind was delivered succinctly, and Grainne's vocals enveloped the Hall with true interpretation of the lyrics to a listening audience, simply brilliant, heartachingly beautiful version of a classic tune.
After a quick stage change it was time for Catfish to take the stage with their heady blend of heavy rock and blues, with the irrepressible Matt Long on lead guitar surely still one of the best guitarists around the circuit. They are a solid unit, and it was good to see Paul Long looking so good after recent surgery play superb keyboards and singing well. With a rhythm section comprising Kev Hickman on drums and the ever-youthful Adam Pyke on bass guitar they went through their set with consummate ease trading licks and hooks as the song required. Soulbreaker was a case in point, the band just rocked out on this to an adoring public, this was a dark and sinister take to this tune that really worked. There were upbeat moments, with the catchy Better Days and a new one Don't Turn Around introducing Paul on vocals, this had a jazzy blues feel with clear and balanced vocals. They ended with the mighty tune, Make It Rain, where Matt always manages to reinvent this, mixing guitar riffs and tones in an utterly jaw dropping performance of an outstanding tune, wonderful set.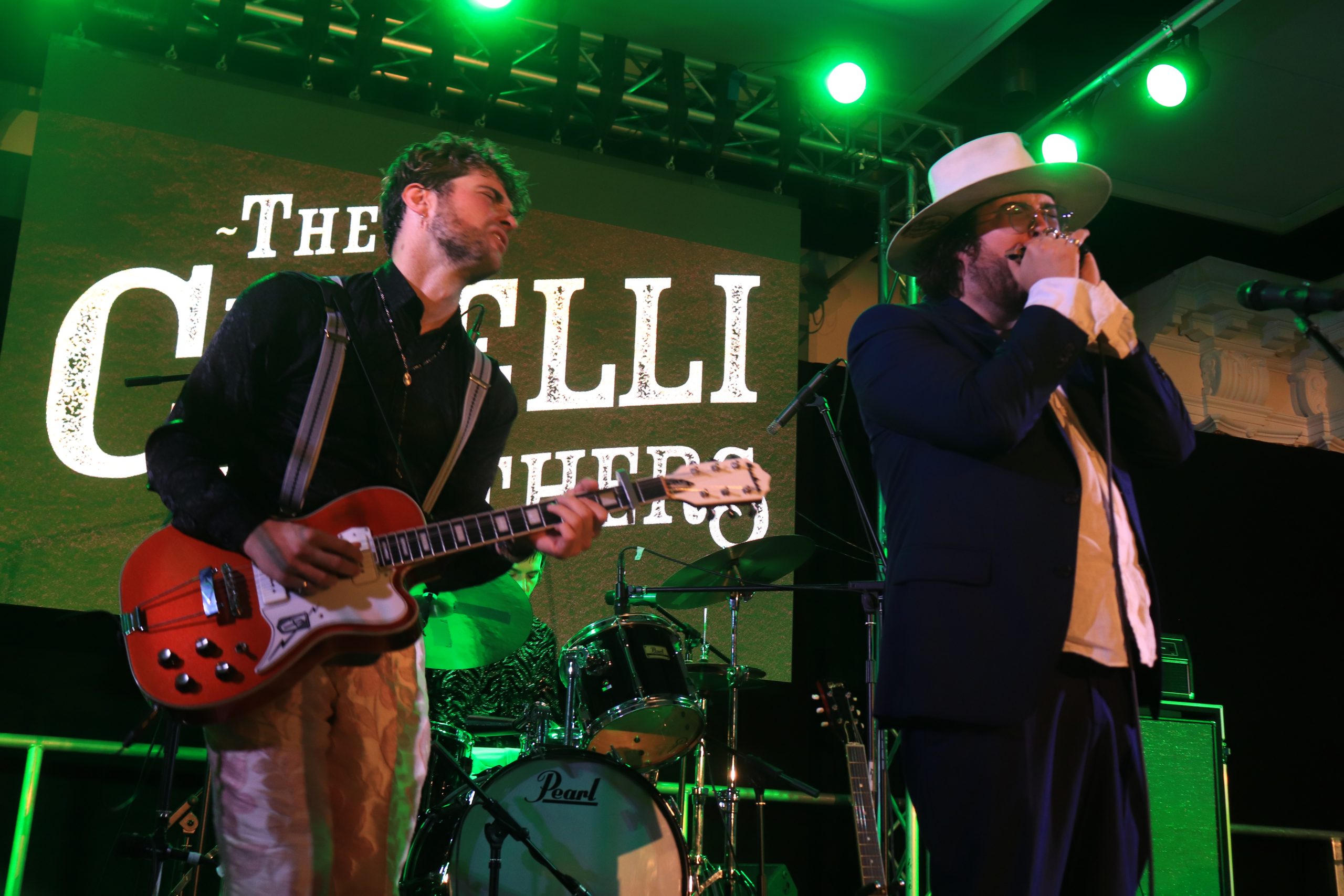 After a short break it was time to see and hear tonight's headliners, The Cinelli Brothers. They must be one of the most hard-working outfits in the land, they tour nonstop and nearly always change their sets to suit the audience they perform to. Tonight, was no exception and when Marco, Alessandro, Stephan and Tom come out to play its always a pleasure. They mixed country blues, Chicago styles, soul and Gospel in a melting pot of entertaining tunes. All looking sharp in their dazzling suits, they put on a five-star show. No wonder they have been chosen to represent UK in Memphis next year for the Blues challenge there. No tighter unit around, they are multi-talented musicians and enjoy their time on any stage. Call Me The Breeze was a stunning choice, mixing Southern Rock with their own twist and making the song into a jam of tuneful delights. Alice Armstrong joined them to sing Deep Down Devil from the new album No Country For Bluesmen, it just added a different dimension to the song, very upbeat and sassy. Just Dropped In was full on rhythm and blues. Married Woman was delivered in a punchy swinging style, dancers enjoyed that one. Choo Ma Gum even had Alessandro doing a fabulous drum solo full of energy. One of the highlights had to be when two members of The Redfish Blues Band (Cumbrian favourites; Christian Sharpe on guitar and Rod MacKay on bass guitar!) joined the stage to play the anthemic and catchy Together Is Better, what a wonderful performance, the crowd went wild literally. They also covered an AC/DC number The Rocker with more than a doffed cap to Little Richard. Fabulous set, the end of a great night and first day's entertainment!
SATURDAY:
Afternoon session was started by a band that are getting a name for themselves in the blues world, a young trio called The Zac Schulze Gang. Comprising Zac, Ant and Ben this is a serious musical trio who played an electrifying set of tunes. Not often do bands that play first in an afternoon get a standing ovation, but they did and so well deserved. Mixing their own material (Made Of Three, Hole In My Pocket, That Feeling) with reinterpreted classics done their way (Walking The Dog, Treat Her Right, Like It This Way, Take A Tip and Low Rider) they soaked up the atmosphere. They even managed to cover Messing With The Kid and finished with an explosive version of Oh Well. This band is destined for blues rock glory, catch them when you can. Young vibrant, pacy tunes, punchy notes, no fillers here just a brilliant performance.
The Mentulls were next onstage with a totally different musical set, Prog rock blending with superb melodies and their own brand of musical tones. The instrumentation was superb throughout the set. The band comprised of Jamie Pipe on keys, his brother Andrew, David Neil Crabtree and Henry Rogers. Opening with Find A Way To This Journey's End, this segued into Easy To Walk Away. For a three-piece unit they made a wonderful tableau of sound. They comprise Andrew Pipe on vocals and guitar, his brother Jamie on keyboards, drummer and bass guitarist. Influences range from Yes, Genesis and Toto with even a mix of Steely dan coming through. They certainly make a wall of sound on such tunes as Worlds made of Sound and Theme From An Imaginary Western. A very interesting set by some consummate musicians.
The Prairie Oyster Club were next on. Lead guitarist and vocalist Oliver Darling was joined by drummer Dean Beresford, double bass man Al Gare and harmonica tones were delivered by Clive Mellor. They played a wonderful set of eclectic 50s and 60s tunes. Stomping blues set, included a great version of Freddie King's Hideaway and BB King's Don't You Want A Man Like Me. This was interspersed by a rocking instrumental Casbah; the tempo was hot like the drumming. There were Bo Diddley vibes a plenty on Pretty Thing, a very enjoyable set, humour throughout and very professional, a feelgood band that rubbed their mark into an appreciative audience.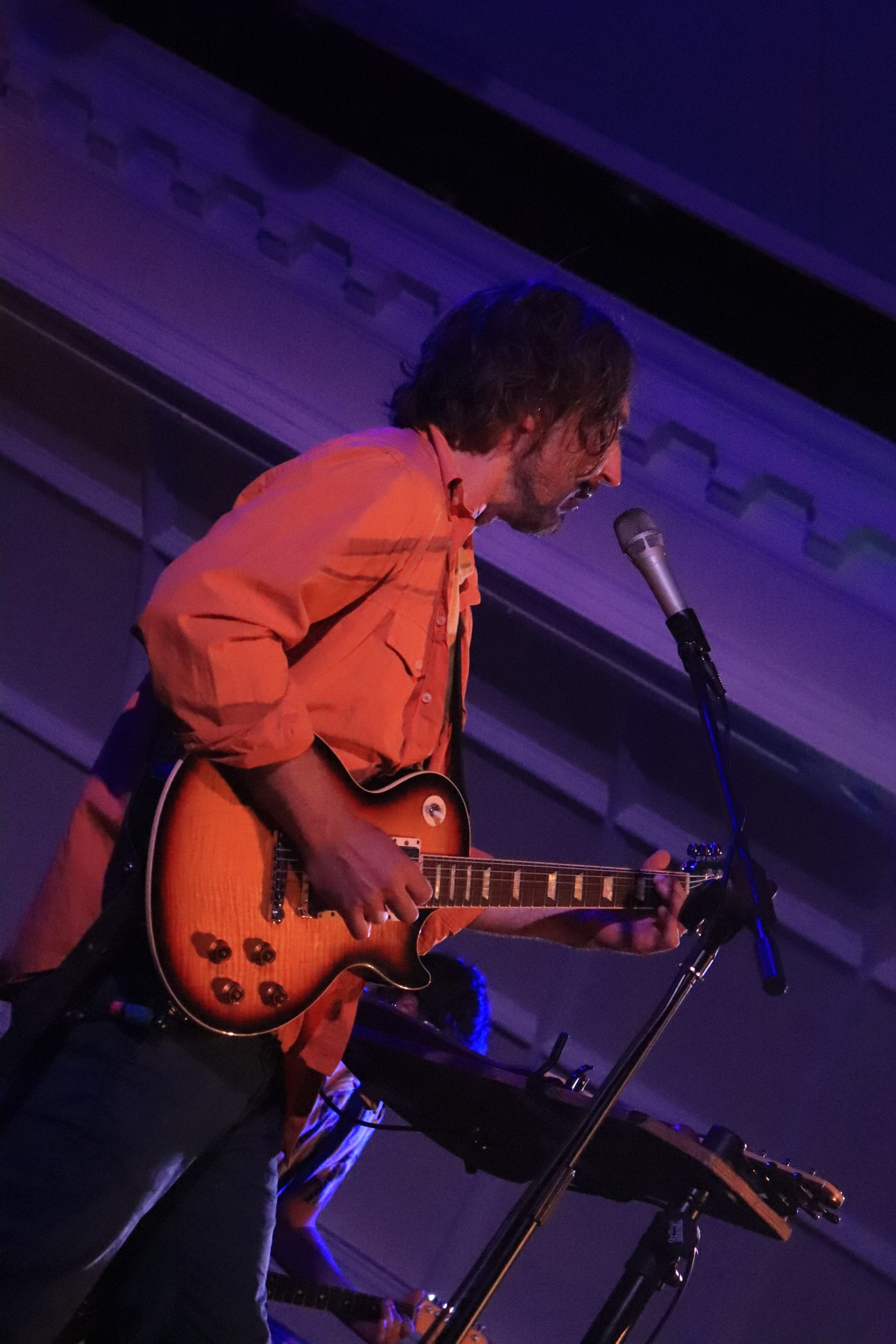 Wille And The Bandits next to play and they also produced a set of tunes for every music lover. They bluesed out, jazzed things up and even funk was there in abundance. The band currently consists of Wille Edwards, Matthew Gallagher, Harry Mackaill and Tom Gilkes. The musicianship in this band just gets better, they are so accomplished and when they get into a groove there is nothing to stop them. Starting with Caught In The Middle with soaring harmonies and then you get the bridge notes, and the tone gets louder, drummer was keeping a straight beat, it's the notes in between that make this band most interesting. Judgement Day was tinged with funky blues and vocal delivery from Wille was emphatic, great harmonies and slide guitar also just ramped the power on this tune. The anthemic tune 1970 was a fully charged tune, just the tonic, again some audience participation.
Next to grace the stage was The Hiding Magpies a five-piece band from Colne. They take their own slant to the term Americana and twist to suit. They are Jake Dixon, guitar and vocals, Jack Herbert on vocals and keyboards, Dan Arnold on guitar, Shug spencer on bass guitar and powerhouse drummer Mike Smith. They raced through their set, starting with Doing The Best I Can. Jake's vocal delivery seems influenced by Tom Petty, some fantastic guitar work throughout the set kept the audience whooping and hollering. Make It Alright was up-tempo, with keyboards coming through well. In The Dirt was melodic and shifted a great groove, a highlight of the set. Sunrise To Sunset showed the band's mellow side, good harmonies, a song for these times. Another highlight was The Hiding Magpie song with an ethereal feel then when the band joined in, that is where the magic happened! Not the blues but a dashed fine outfit to watch out for.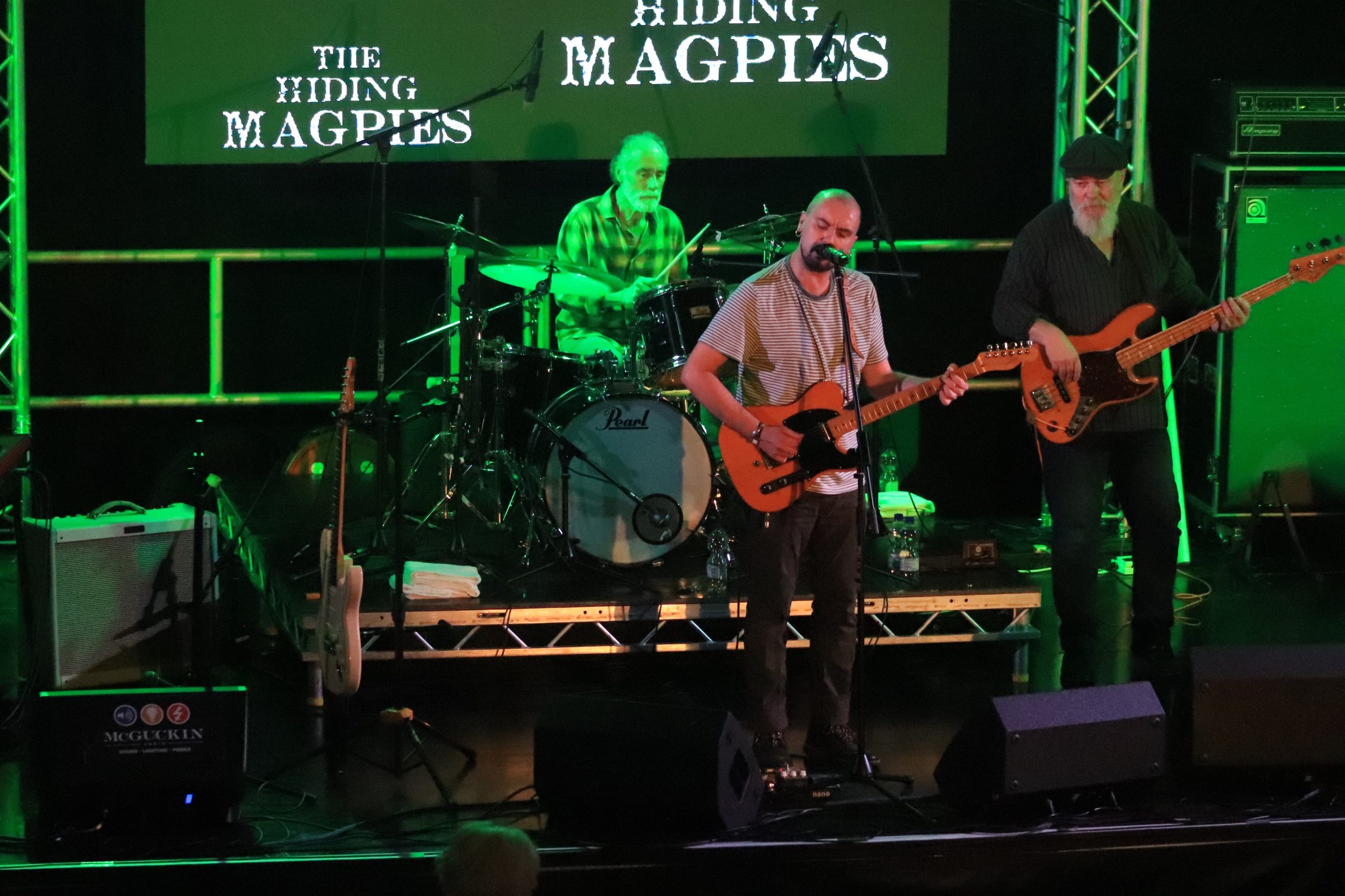 Laurence Jones took the stage next, with a formidable band, on drums Sam Jenkins, keyboard Bennett Holland and bass guitarist Jack Alexander Timmis. This was a back catalogue of songs plus some from his new album Destination Unknown. First song was from the new one, exploding into Anywhere With Me, his guitar work is still exceptionally good and with the keyboards this song takes a twist of its own. Throughout the set there are a considerable number of notes and great interplay between band members. Can't Keep From Loving You, another new tune had a heavy bass line and catchy chorus. Tonight, was a highlight, Laurence exhibiting his undoubted guitar skills on this slower track. Destination Unknown was also a highlight, a bluesy tune again a slow number. Thunder In The Sky was sung with passion and feeling and with the band behind him it just raised the song to new heights. The band also played Purple Haze which was well appreciated. A particularly good set of tunes by a very accomplished band.
Special mention to Stephen and Julie Harrison for helping with the Blues Matters merchandise desk. There was a chance to chat all things blues Matters and thanks to the artists and attendees of the festival for saying hello and asking about the magazine. People seem to like the new A4 format!
Headliners tonight were the amazingly talented Billy Walton Band who really know how to put on a show! From start to finish this was a faultless set combining six multi-talented musicians. They mixed styles of music; instruments and their stage presence were memorable. Songs like, Cold Day In Hell, Hell Or Highwater and Long Way Down are just timeless pieces of blues infused energy. The sound and energy levels onstage were mesmerising. The audience really enjoyed the band, lots of dancing and clapping when needed. They finished off the set with a wonderful rendition of Take Me to the River, class shows, and this band entertain with style and swagger. A momentous day of music was rounded off with a jam session downstairs until the wee small hours of a very wet Carlisle night, The session was run by Redfish Blues Band and there were many surprise guests brought on, including Matt Long and Billy Walton, a night to savour.
SUNDAY:
The past two days seem to have gone too quickly, now was the last day. Always a bittersweet feeling but having got to rest just before 3am well it may be a blessing of sorts. Anyway, it has been a blast and so many people have made positive comments about the weekend that makes it all worthwhile!
The weather had changed, and it was a pleasant Autumnal afternoon before coming to see the first act. The Sean Taylor Band eased the crowd into Sunday afternoon with another amazing set. He had a trio this time. Sean on vocals, piano and guitar, Mike Seal on Double Bass and Paulina Szczepaniak on percussion. They played twelve songs four of which were reinterpretations. Starting with Number 49 they played a mellow laid-back set. Next was the powerful political tune This Is England; visceral lyrics married a cool backbeat. Then a medley, Happy Days was intertwined with All Along The Watchtower, the guitar playing was amazing to watch and here. Stripped back blues was no better this weekend than the Skip James tune Hard time Killing floor Blues. His own tune, The Beat Goes On was sung sweetly to a mellow backbeat. Way Down In Enniscorthy had great depth of tone. Keeping the best to last, the version of Richie Havens' Freedom, must have taken some of the audience back to Woodstock. Powerful, melodic, and uplifting this was a perfect band for opening the day's entertainment.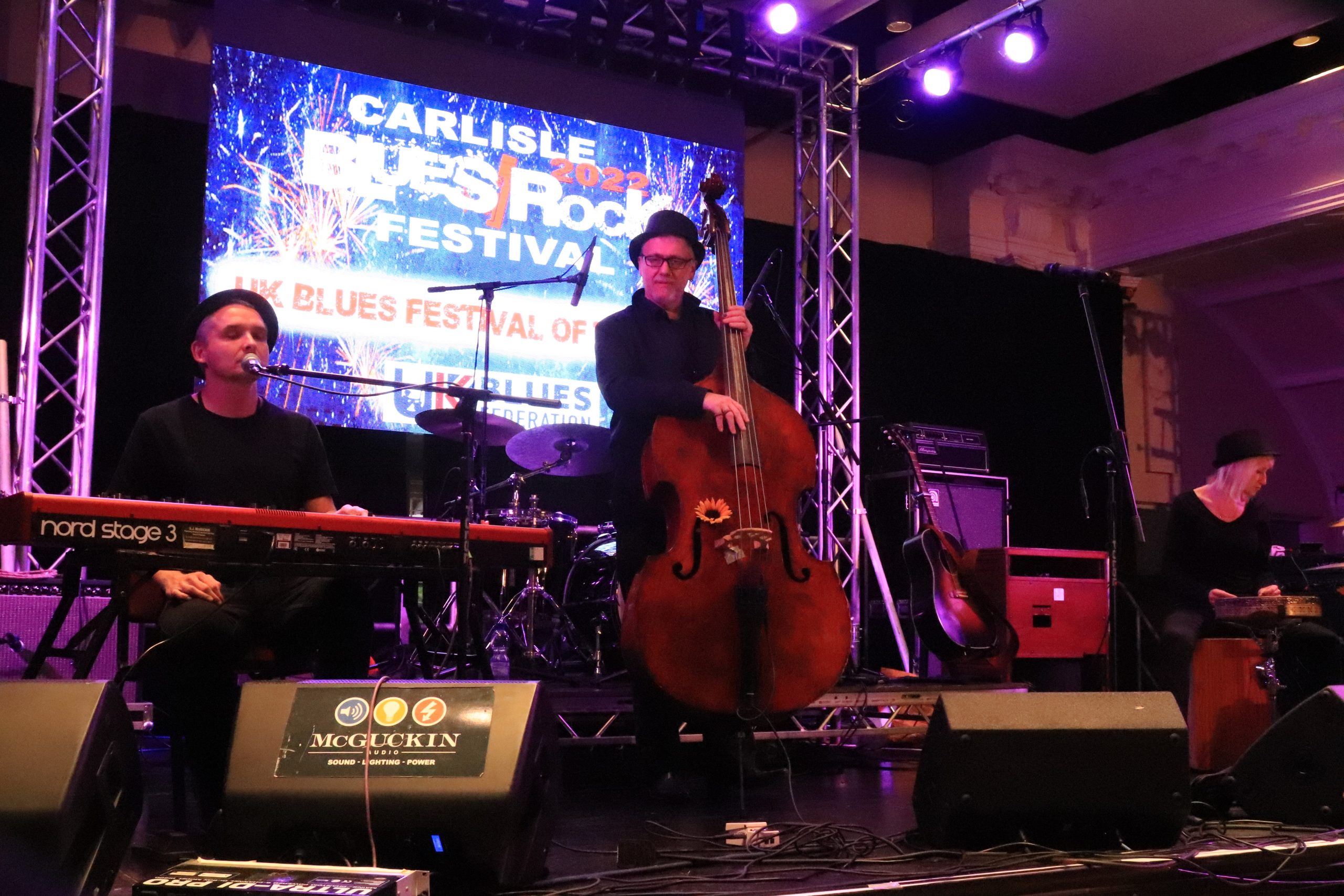 Next up was The Stevie Watts Trio featuring Alice Armstrong. Initially the trio played an instrumental before Alice came swaggering on stage dressed to entertain and my she certainly did. Starting with, I'd Rather Be An Old Man's Sweetheart, a Candi Staton tune her vocal range is at the top spectrum and she makes it sound so effortless. Blues, jazz, Gospel no style was left unturned. Gorgeous Girl and In My Stride were particular favourites. But when the opening chords by Stevie on keys rang out on Alligator Teeth, this show went to party mood, upbeat and funky this got people dancing and on the tune Mission To The Moon. Another polished performance a wonderful set by amazing musicians.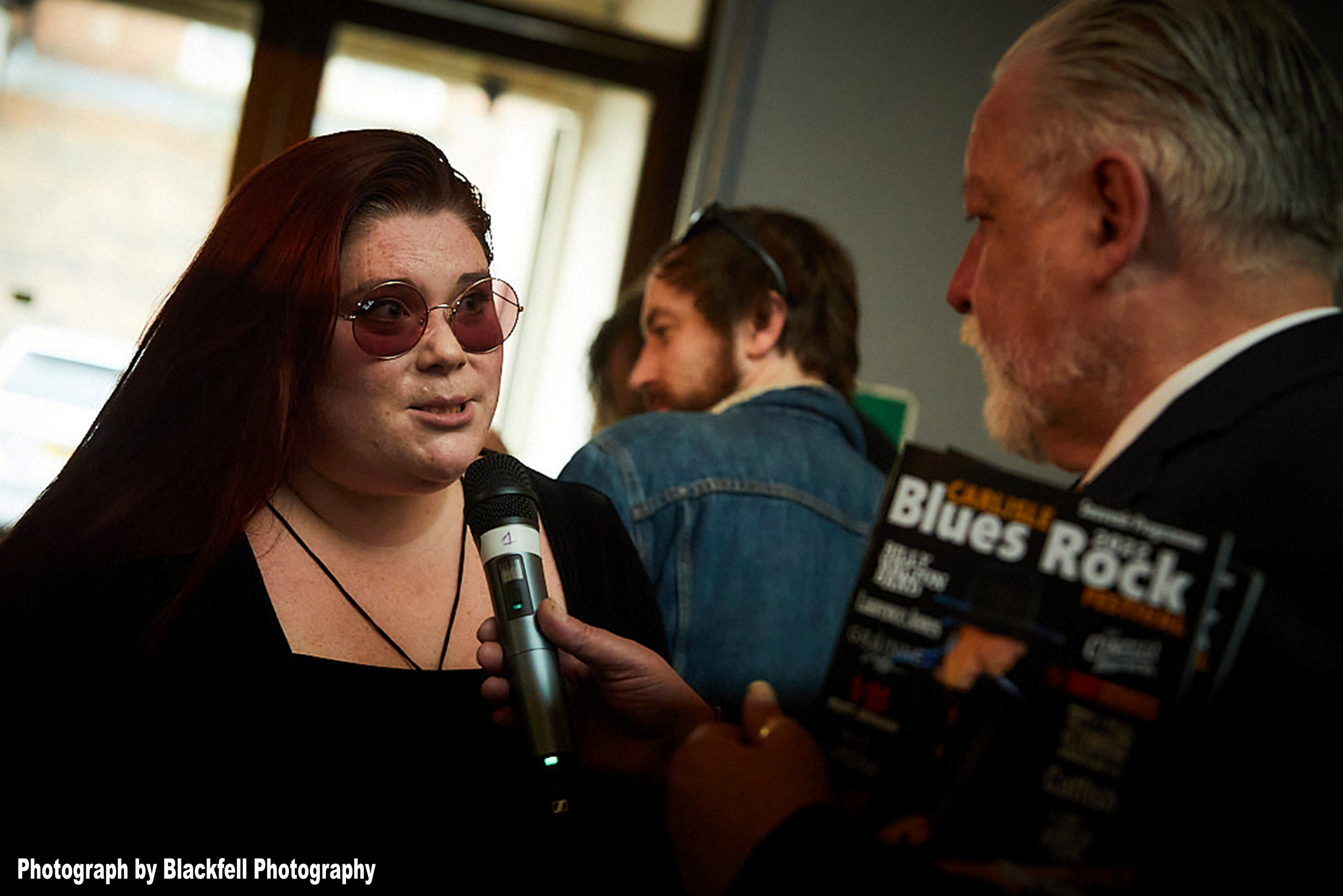 Krissy Matthews brought his trio to the stage next. Stage presence with this man seems top priority, he just looks so happy and at ease playing his guitar and singing. The rhythm section was excellent as they continued their high octane set especially on songs like, No Place I Can Be At Home, this was maximum energy. The Man Said No, alluded to the time of lockdown when Krissy got knocked back from doing various jobs, well there is a key to writing a blues song. Particularly well delivered and exhibiting exquisite and complicated guitar technique the band rocked, Sitting On top Of The World. Then pace slowed down on the enchanting song Grateful. Last tune, Carry You had great vocal harmonies working with hypnotic guitar tones. Another impressive set.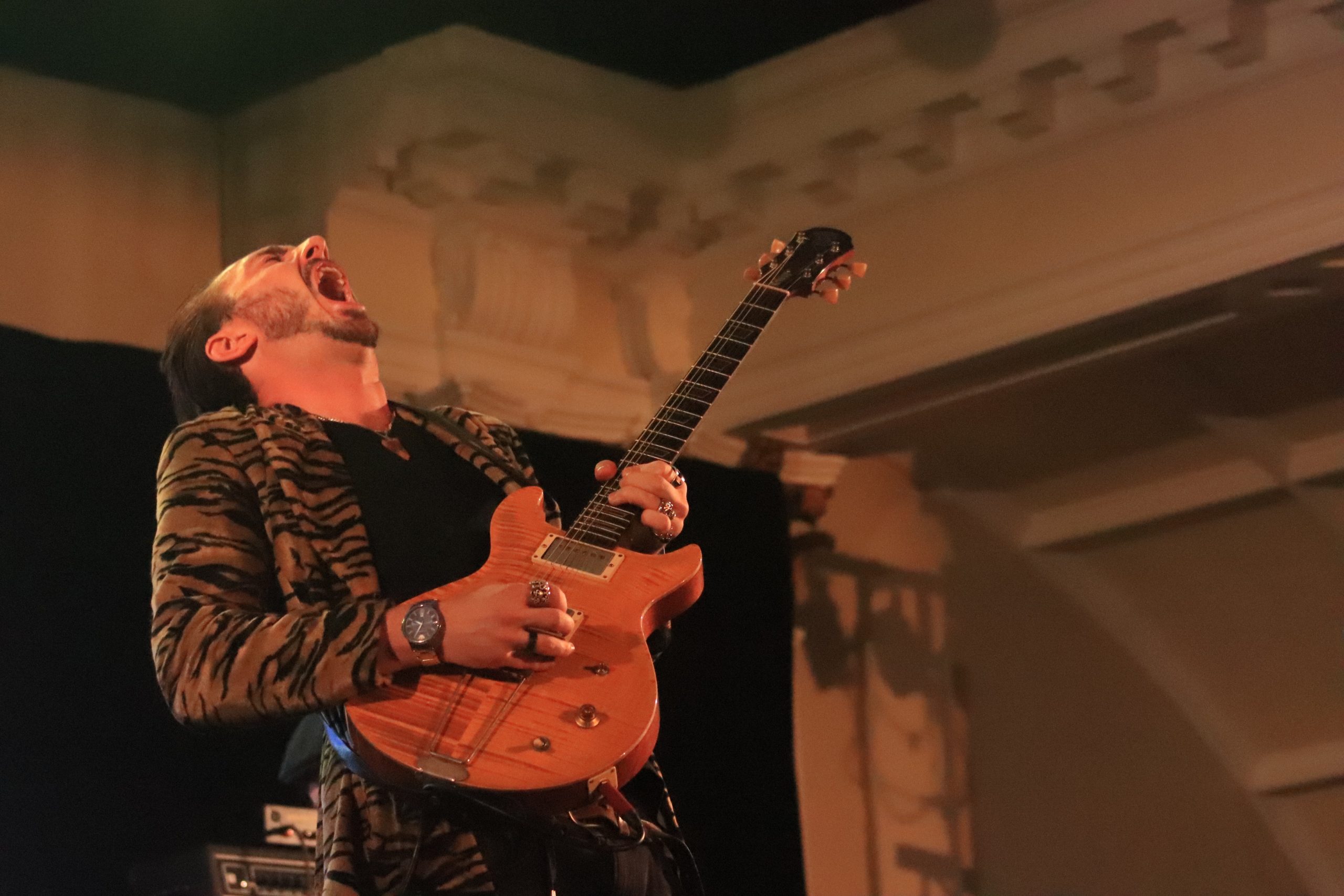 Penultimate band of the weekend next and what a treat, a new band no less but with many years in the music business. The Verity/ Bromham Band rocked the Crown & Mitre to its foundations. They were just superb; they had done their homework on the audience demographics and gave a faultless albeit tongue in cheek performance at times. From the opening bars of the gritty, blues-soaked Mississippi Queen the audience was spellbound. Even reinterpreting standards like Cocaine just seemed second nature to them. They shared vocals on differing songs and still can keep a good range, this how professional they are, backed up by a firm rhythm section, the tunes just kept flowing. They mixed Argent songs, Hold Your Head Up and God Gave Rock And Roll To You. Then slowed things with Ain't No Love. Old Skool rock classics. They even did Joe Walsh's Rocky Mountain Way. They took us to Woodstock, with Star Spangled Banner segueing to Purple Haze. Then another singalong, Delilah, they were pushing barriers, but the crowd lapped it up. They even had time to give their version of Led Zeppelin's Rock and Roll. Texas blues was there too, ZZ Top's Gimme All Your Loving with big guitar licks and guitar faces, just a memorable set. On reflection they could have been top billing.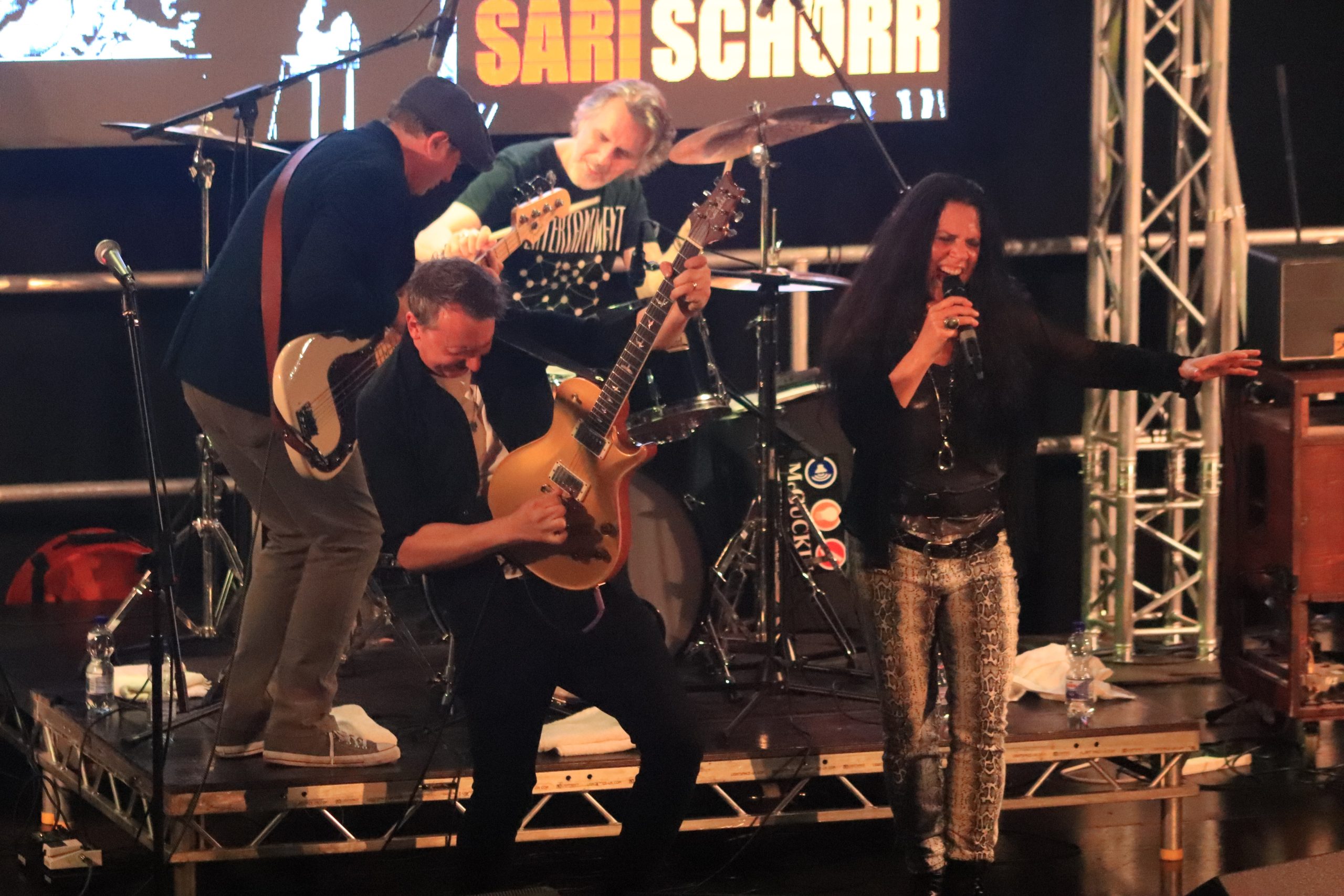 However, Sari Schorr Band were next on stage after the audience had a collective warm down session from the full-on dancing that just occurred. They played a mixed set of songs and eclectic mix of styles, all with Sari's amazing hallmark vocals, whether the song needed intimacy and passion such as Aunt hazel, Beautiful and Thank You. She rocked out to Demolition Man, The New revolution Damn The Reason and King Of Rock and Roll. The band is solid in structure there is so much quality and charisma in the look of the band that just adds to the chemistry on stage. Rhythm section of Roy Martin on drums and Mat Beable keep a backbeat throughout and with Ash Wilson playing lead guitar the balance is superb. Of course added to this is the Hammond Organ, just breath taking. Highlight of the set, what else but Where did You Sleep / Black Betty. A wonderful song to finish a fantastic Festival. Something for every music taste, possibly with a leaning to rock but it is all music in the end and what we need in our souls. Will be back next year no doubt about it.
Long may this Festival run from strength to strength during what are economically challenging times and music lovers choosing the festivals they want to go to. Decision is made for you now get along next year, support live music.