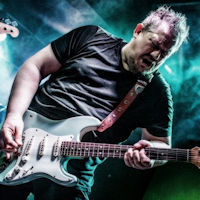 The Story So Far
As one half of Scotland's highly respected 'Nimmo Brothers', Stevie Nimmo has been a well known and respected figure throughout the blues and roots world for over 2 decades.
Now, having toured extensively with the critically acclaimed blues rock outfit over the last few years, as well as taking to the road in a stripped back, acoustic format to promote his debut solo project 'The Wynds of Life', Stevie is now in full stride with his full-on, electric, no-holds-barred trio format. Stevie says that, although the acoustic project is extremely satisfying and allows him to showcase his voice and song writing talents in the perfect environment, sometimes "…you just want to break out the Les Paul or strat, crank up the old orange amp and make some noise!"
Which is exactly what he is doing.
Stevie's last cd 'Sky Won't Fall' was released worldwide in 2016 on the Manhaton Records label and it was voted album of the year by many in the media and by his fans.
The follow up cd was due to be recorded and released in late 2017 however after a nasty fall from a mountain bike resulting in a broken humerus, Stevie was forced to put the new recording on hold.
In true Glaswegian fashion, he was never going to allow this 'unfortunate' incident to stop him completely and instead, took to the road with sublimely talented young guitarist Dave Devlin taking on the guitar duties.
Stevie finally had surgery in January 2019 and is well on the road to recovery. He is writing material for a new album which he is hoping to release at the end of the year and will begin touring again towards the end of March which will see him play throughout the UK and Europe.
He is still enjoying making music now as much as at any point throughout his 20 years in the business and is fully relishing touring and performing again to his loyal and ever-growing army of admirers.
Don't miss this chance to catch an artist at the top of his game doing what he does best – standing on stage playing his own music in his own passionate, inimitable fashion.
You will not be disappointed!
What they say:
'This album raises our expectations of British blues to a splendid new standard'
– Neil Mach – Raw Ramp
'…a rocker with a heart full of soul and a soul full of blues…'
– Devils gate media
'Scotland's Warren Haynes…'
– Plungermusic
'Great songs and some stunning guitar'
– Andy Snipper (Music News.com)
'Man that guy can sing!'
– David Grissom (storyville)
'Stevie's voice is at times gritty, other times emotional but all times perfection!'
– Maverick magazine
__________________________________
Source: http://www.stevienimmo.com/biog/