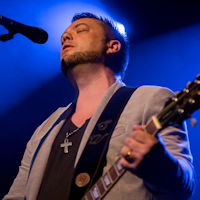 It all started when…
… a 14 year old boy was introduced to guitar based music by a school friend. Sean became instantly hooked on the instrument and began researching as many influences as he could. All the blues greats; the Kings (Albert, BB and Freddie), Collins, Cray, alongside Moore, Knopfler, Lang and of course the reason Sean says he plays guitar…. Eric Clapton. Music from that point became Sean's main focus in life. He would cycle 20 kms to watch friends rehearse in a band, which after some time he became the singer of: Journeymen. Years later and through various incarnations, The Sean Webster band was formed. This itself has had a few line-up changes over the years, but Sean believes change can only be a good thing in the end: "I'm not the greatest fan of change at the beginning because I like things to run smooth, but it also forces you to learn, evaluate and ultimately re-shape what you already have. Keeping it fresh!"
Sean has toured many countries such as The Netherlands, France, Belgium, Germany, Luxembourg, The United Kingdom, Finland, Poland and The U.S.A. playing festivals and venues throughout.
He has also appeared on national FOX TV in Austin Texas, recorded live sessions for BBC radio 2 and appeared for interviews on many regional radio and TV shows.
Sean has released 5 albums and 1 EP. His 6th and latest album entitled Leave your heart at the door has Sean going back to being the only guitarist on the album, something which hasn't happened since his first. At the risk of sounding like a cliche, the album REALLY does have something for everyone. It has blues, ballads and mainstream offerings which Sean hopes will keep his fans interested.
Recorded at the legendary Superfly Studios in Nottinghamshire, Sean felt it was like going home. "I recorded my second album If Only at Superfly back in 2005 and the Engineer and now owner Andy is simply fantastic. It is such a comfortable place to be in that I felt confident in taking the helm of Producer, part mixer, arranger, and 100% writer for this album, apart from the last track which was written by the great Keith Urban."
Having recorded the majority of the album in just 4 days, the results are outstanding. After completing the mixing, the album was sent to Jon Astley at "Close to the edge" for mastering. Jon has mastered albums for just about everyone including The Who, Charlie Watts, Abba, George Harrison, Tori Amos, Eric Clapton, The Rolling Stones, Jools Holland, Tom Jones, Emmylou Harris, Damien Dempsey, Tears for Fears, Led Zeppelin, Level 42, The Boomtown Rats, John Mayall, Toto, Norah Jones, Stereophonics, KT Tunstall, Van Morrison, Paul McCartney, Peter Gabriel, Slade, Sting, Porcupine Tree, Bono and The Lancashire Hotpots!
Jon said of the album "I had such a lovely day with this album, thank you for a great record, a breath of fresh air!!!"
Having secured distribution with Cadiz Music in the UK and promotional duties from Hans Broere Promotions this album is set to take Sean on a new adventure.
___________________________________
Source: https://www.seanwebsterband.com/