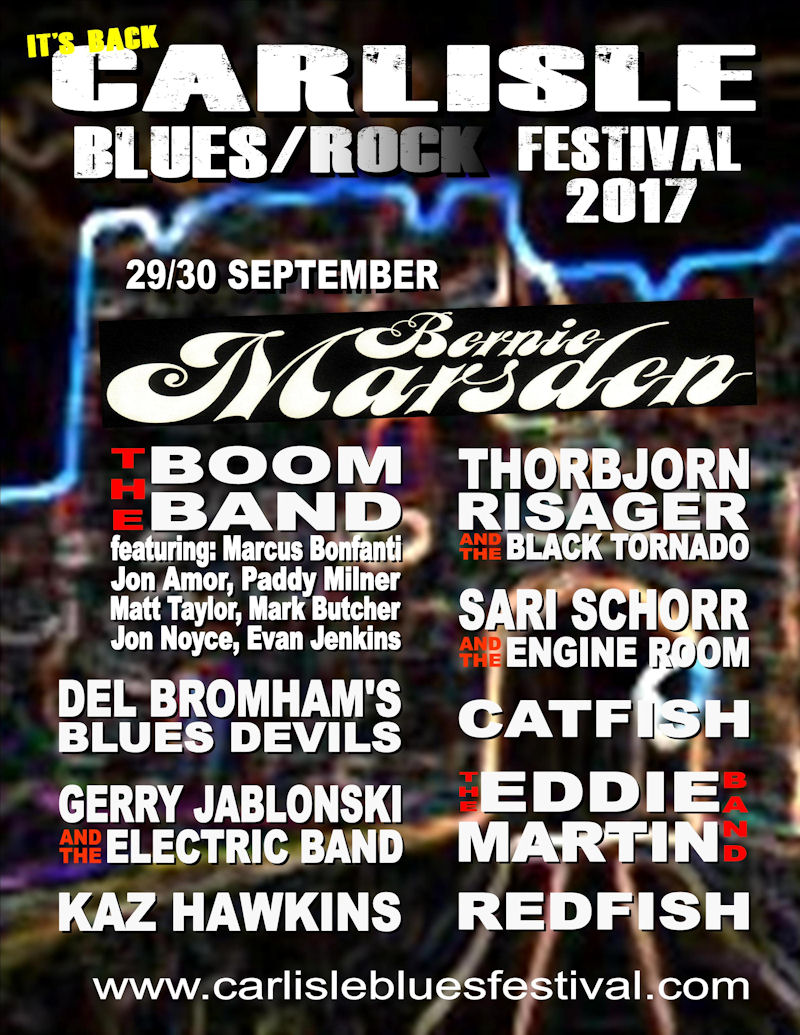 Line-up by the Day
Friday 29th September 2017 at The Venue, Portland Place, Carlisle:
Doors 6pm, first band STARTS at 7pm, last band STARTS at 10pm.
Bernie Marsden Band
Sari Schorr & The Engine Room featuring Innes Sibun
Eddie Martin Band
Saturday 30th September 2017 at The Crown & Mitre Hotel, English St, Carlisle:
Doors 12 noon, first band STARTS at 12.30pm, last band STARTS at 11pm followed by the Jam Session.
The Boom Band
Thorbjorn Risager & The Black Tornado
Kaz Hawkins Band
Del Bromham's Blues Devils
Catfish
Gerry Jablonski & The Electric Band
Redfish
________________________________________________________________________________________________
Bernie Marsden
Bernie Marsden is primarily known for his work with Whitesnake having written or co-written with David Coverdale many of the group's hit songs. Having played with Glenn Cornick's Wild Turkey, he then played with Babe Ruth, before becoming an original member of Paice Ashton Lord. He then joining the hard rock band, Whitesnake, after having the possibility of playing with his boy-time hero Paul McCartney and Wings because while waiting, David Coverdale asked him to form Whitesnake. In more recent years, Bernie has toured with his bands Company of Snakes, M3 (both formed with fellow former Whitesnake members Micky Moody and Neil Murray), and performed with Elkie Brooks. Over the years he has released a handful of solo albums (And About Time, Too!, Look at Me Now, Green & Blues, Stacks, Shine). He has also collaborated with Micky Moody on a number of Marsden-Moody live and studio projects. …In the last ten years, Bernie has been involved in very different projects. The most unusual being two engagements at the National Theatre in London and he appeared in a German six-part TV special. After this, Bernie has worked alongside Robert Plant, Paul Weller, Ian Paice and Jon Lord for The Sunflower Jam charity concert in London. Bernie also played Guitar with Ringo Starr and his son Zak Starkey in Monte Carlo. Most recently, he has been playing and writing for guitar virtuoso Joe Bonamassa.
The Boom Band
Since their debut gig at The Half Moon, Putney on the 8th March 2014 The Boom Band – featuring the four guitar line-up of Jon Amor (The Hoax/solo), Marcus Bonfanti (solo/Ten Years After), Mark Butcher (solo/former England cricket star) and Matt Taylor (Snowy White/The Motives), plus keyboard player Paddy Milner (Tom Jones/Jack Bruce/solo) – have developed something of a reputation as an awesome live band. Their studio work has had praise indeed with their debut album receiving rave reviews across the board prompting descriptions such as "hugely refreshing", "rousing songwriting" and "a special record" from the music press. It was perhaps Van Morrison who described them most succinctly, declaring "this band is great – they're on the money!". … The Boom Band is not like other bands. For a start every one of the front line is not only a great player but also a fine singer and talented songwriter.
Thorbjorn Risager & The Black Tornado
Thorbjørn Risager & The Black Tornado: Talent, dedication and perseverance. As this Danish band enters its fourteenth year, they really seem to be on the verge to a success that will open some new doors, in new territories. And with all the hard work they put into this project, they surely deserve it. … Parallel to writing, recording and releasing new material with 12 – 18 months' intervals, they have kept touring all over Europe, plus a tour to Canada and a spot at Asia's biggest blues festival Mahindra Blues in Mumbai, where they shared the stage with Buddy Guy. They play 100 gigs per year, and they have performed in 21 countries. … This is a hard-working band, and they really stick together through thick and thin. They are united through their talent, their dedication and their perseverance!
Sari Schorr and The Engine Room (feat. Innes Sibun)
New York-based Sari Schorr initially gained prominence throughout the blues world after several years of touring the USA & Europe with Joe Louis Walker and Poppa Chubby. It was in January 2015 that legendary producer Mike Vernon witnessed one of her performance and came out of retirement to produce an album with her. … Sari's new band, The Engine Room, features stunning British guitarist Innes Sibun (former Robert Planet guitarist). "The Engine Room truly is a remarkable band," says Sari.  "Something magical happens when we're on stage together. We're fuelled further by the audiences' reaction and everything's possible. I love touring and enjoy the privilege of meeting so many like-minded people who share our love of the Blues."
Kaz Hawkins Band
Multi award winning Kaz Hawkins is Northern Ireland's very own blues and soul darling. The Belfast born singer-songwriter is fast becoming a performing icon across UK & Europe & the United States. Her high energy, original shows with her 1950s style swing-dress-meets-Dr Martens look and ability to closely connect with her public contribute to make Kaz one of today's most popular independent artists in the UK and Ireland, as she continues to play to full houses. Mixing through the genres of music for over 20 years, she finally found her niche in roots and blues. Kaz has been compared to Etta James & Janis Joplin to name but a few.
Del Bromham's Blues Devils
Del Bromham formed his first band The Stray (later becoming Stray) whilst at school when he was fifteen years old, and that has virtually been his life's work ever since. Over the years Del has recorded eleven studio albums and three live albums with Stray, and has been on countless tours and one night stands rubbing shoulders with too many artistes to list! … It wasn't until 2004 that Del recorded his first solo album, 'The Devil's Highway' which, unusually for Del, was a more blues-based album with a combination of old songs which he remembered from his childhood and some self-penned songs in the style of the old blues masters. This coincided with the time that Del was asked to accompany and tour with guitarist Leslie West on his "Blues To Die For" tour. This was the first time that Del had played a completely solo acoustic set with no backing whatsoever. From this point Del decided to do more acoustic shows and then later formed a side project from Stray, known as Del Bromham's Blues Devils.
Catfish
Catfish's debut album 'So Many Roads' went straight to no. 1 in the IBBA blues airplay charts on its release in January 2015.The new EP, 'When BB Sings the Blues', a tribute to BB King, was no 5 in the IBBA blues airplay chart for February and March 2016. Within their first year, they were nominated twice as finalists in the British Blues Awards 2015 – the band in the Emerging Artist category and Paul Long for keyboards. They followed this with three more nominations in the British Blues Awards 2016 – Band of the Year, Young Artist of the Year for Matt Long and Keyboard Player of the Year again for Paul Long.  Paul won the keyboards category and Matt was runner up in Young Artist.  A very proud day for the band.
Eddie Martin Band
Singer song-writer, multi instrumentalist, One-Man-Band, Big Band, Band leader, composer, producer and arranger, Eddie Martin is amongst the most versatile, creative and just plain hard-working musicians around.  …  His Electric and Slide guitar-playing has seen his recordings commended by the Guitar Press all over, receiving "excellent" tags from Guitar, Guitarist in the UK, Vintage Guitar USA, and Guitar and Bass in Germany. But he is also widely regarded as a top harmonica player, listed one of the world's excellent contemporary players on the Modern Blues Harmonica website … He has invested most of his life in studying and contributing to the blues legacy and he is keen to pass this on, not just as a recording artist but also through masterclasses.
Gerry Jablonski and The Electric Band
Anyone who has never seen Gerry and The Electric Band on stage is truly missing an incredible energetic, visually exciting and ear pleasing performance. With a past appearance at Jools Hollands Jamhouse for the Edinburgh Fringe Festival, being voted Best Solo Act at two festivals and a presence at numerous other festivals across the UK and Europe, this is a band not to miss!
Redfish
Redfish is an exciting new blues band, featuring some very talented Scottish and Cumbrian musicians who create a distinctive sound that blends blues, roots, jazz and soul. They have appeared at a range of festivals including Maryport Blues Festival, Thornhill Music Festival and the Bowness Blues Festival.
________________________________________________________________________________________________