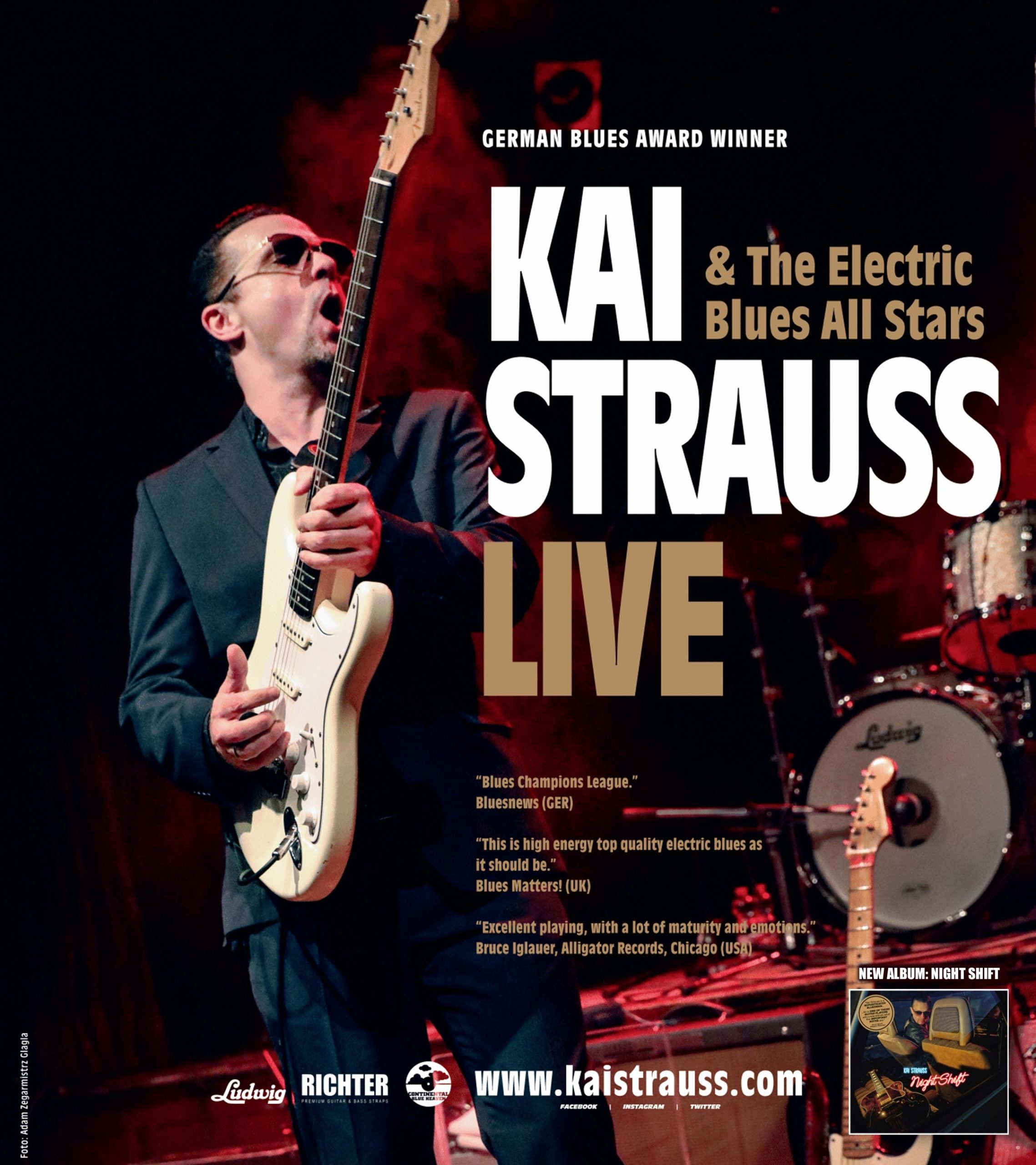 Kai Strauss
& The Electric Blues All Stars
The times when European artists simply imitated North American productions are long gone. Whether one regrets it or not, the blues has gone global and is defended by musicians who keep the memory of the blues alive and – for the best of them – give it the extra soul that makes it special. German singer-guitarist Kai Strauss is among this elite.
Strauss is not only a convincing vocalist with warm timbre but above all an accomplished guitarist with rich and creamy phrasing, who's fierce but disciplined playing doesn't degenerate into volcanic cascades of notes.
Kai Strauss has been an enduring presence on the European blues scene for more than 25 years. From his professional start in the 1990s, when he teamed up with Texas, US-born singer Memo Gonzalez, to his successful career as a solo artist, Strauss has proved himself to be a guitarist and vocalist of power and originality. Several German Blues Awards confirm his relevance as a bandleader, but he is also an in-demand sideman and in recent years performed with US greats such as Jimmy Johnson, Mike Wheeler and Grammy-nominated Lurrie Bell.
With 'Night Shift' Kai Strauss has now released his seventh album, and once again he succeeds in weaving blues roots with elements of his own brand of funk and soul into an exciting contemporary sound. Strauss' songs have gained urgency and relevance, sometimes tackling more serious topics, as in the muscular grooving 'Stand Strong Together' or the soul-blues 'Bad Loser', disguised as a love triangle, whose inspiration was the end of the U.S. Trump administration. Although Strauss has clearly learned the grammar of the old blues masters, his guitar work is by no means 'paint-by-numbers blues'. Performed in his own unique voice, Kai places his guitar licks with energy and polish like a South American penalty kicker. And when even US blues mogul Bruce Iglauer (Alligator Records) praises Strauss as a musician 'who has it all', you know that countless club and festival gigs have paid off.
The blues has always been a difficult field to conquer, but Kai Strauss is well on his way to doing just that.
"European blues guitar star Kai Strauss shows that he's got what it takes to blow up worldwide on his latest album Night Shift. Get this record!"
rockandbluesmuse.com (USA), Mike O'Cull
"Kai Strauss is a subtle and sophisticated bluesman who has it all."
Bruce Iglauer, Alligator Records (Chicago/IL)
"This is high energy top quality electric blues as it should be, from the heart and with punches of feelings and emotions. Hard to believe this man is a blues player from Germany and not from Chicago or Memphis."
Blues Matters! UK
"Strauss vibrates with deep musical understanding… he shows the killer instinct that the old masters like Magic Sam had – Highway Blues is one example. Strauss' so good here it's scary."
Otis Grand, London (UK)
"Blues Champions League."
Bluesnews (GER)
"Kai Strauss is one of the top blues musicians today. Traditional and contemporary all in one."
Mike Wheeler, Chicago (USA)