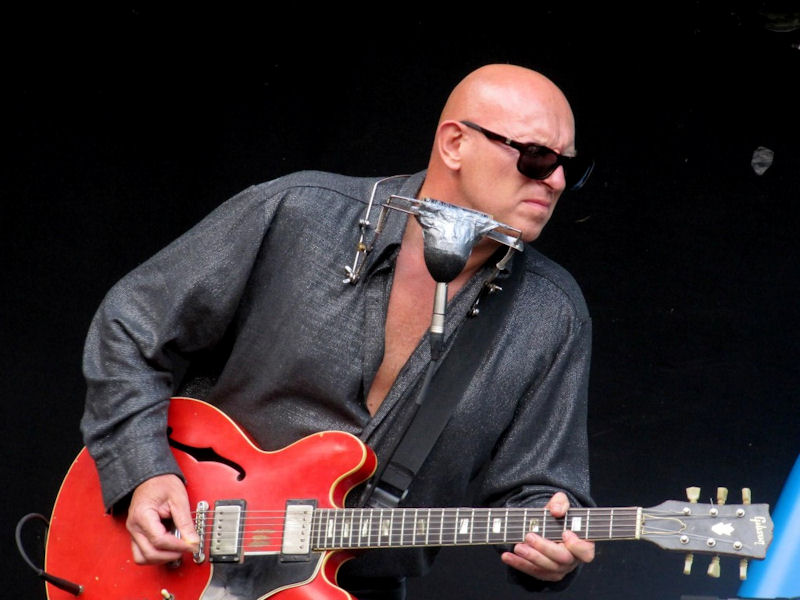 Singer song-writer, multi instrumentalist, One-Man-Band, Big Band, Band leader, composer, producer and arranger, Eddie Martin is amongst the most versatile, creative and just plain hard-working musicians around. He is as likely to be found playing or recording solo, or fronting his blues-rock trio and his new 50s inspired outfit "The 58s", as he is as band leader to his Big Blues Band or, most recently, his "World Blues Orchestra" Big Red Radio.
His determination to remain his own master, releasing on his own label (Blueblood Records), may have kept his name below the radar for many. But the accolades he has amassed are plenty – including this year's 2016 Nomination as Best Acoustic Solo Artist in the European Blues Awards.
With 14 rave-reviewed album/DVD releases and constant globe-trotting since turning professional in 1995, London-born Eddie Martin has been called "The Ambassador of British Blues". Best Solo/Acoustic Artist Finalist in The European Blues Awards 2016, Blues Act of the Year 2011 winner, he has been Nominated Best UK Blues Guitarist, Best Harmonica Player, Best Band, Best Acoustic Artist and Best Blues Album release many times, and his songs have made it onto TV and film soundtracks. He is frequently broadcast on international radio, has performed many times on TV and recorded 3 sessions for BBC Radio 2, including at the famous Maida Vale Studios.
In 2016 he has exploded back into Blues Rock with his trio on "Black White and Blue".
2015 saw him releasing  "Live in Tuscany" with a new Anglo-Italian project Big Red Radio  which has been described as "one of the best blues albums of the decade". In 2014 he released his "Best-of" compilation album, "Blues Took Me By The Hand" celebrating 25 years of recordings. This went straight in at No1 of the Airplay Direct download charts staying there for over a month.
Born in London, Eddie was writing and performing songs in his early teens with Classic Rock and Singer songwriters like Dylan as key influences until he first heard Freddie King and Robert Johnson. Realising its role as the foundation stone of Western popular music, he immersed himself in studying the Afro-American music heritage from then on. He has kept up a world-wide touring schedule for 25 years. For two years he played the US "chitlin circuit" from a base in Texas, and has had one-man band residencies on Beale St in Memphis and in the Jook Joints of Clarksdale, Mississippi.
His Electric and Slide guitar-playing has seen his recordings commended by the Guitar Press all over, receiving "excellent" tags from Guitar, Guitarist in the UK, Vintage Guitar USA, and Guitar and Bass in Germany. But he is also widely regarded as a top harmonica player. Listed one of the world's excellent contemporary players on the Modern Blues Harmonica website, he was lauded as an Innovator for his rack-harmonica skills by the World Harmonica Festival in Germany where he performed solo, held a Masterclass and co-judged the World Blues Harmonica Competition.
He has been commended for the "originality..and intelligence in his music" by the Penguin Book Of Blues Recordings.
He has invested most of his life in studying and contributing to the blues legacy and he is keen to pass this on, not just as a recording artist but also through masterclasses.
Even if many are still to find out, there can be no doubt that Martin's quarter century career of recording and performing merits a reputation as one of the most innovative and creative artists coming out of the Blues tradition alive today.
Bio & photo source: http://eddiemartin.com/