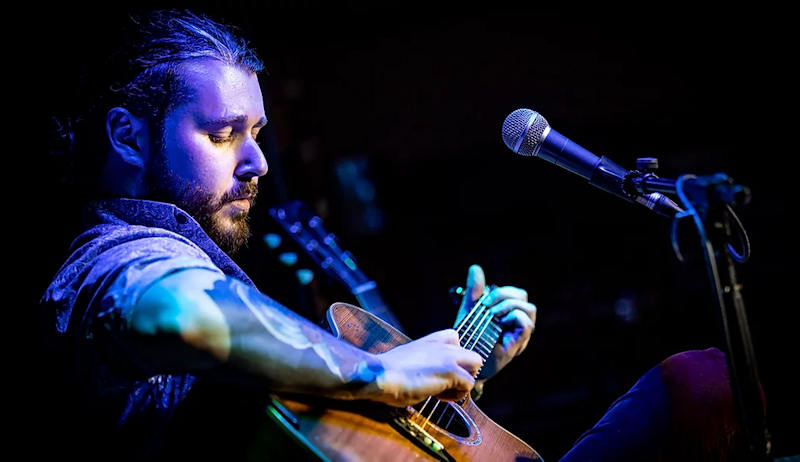 Although a young man new to the scene, it would be wrong to think Dom Martin hasn't paid his life and musical dues. Brought up in the often tough, but community driven, streets of Belfast Northern Ireland, Dom traded his craft for a time locally without a (self-confessed) clue how to break into the (international) music business and possibly with too much humility to try. 'Discovered' by his present manager, Dom has made a fairly 'meteoric' rise in terms of today's industry, with his first ever EP release attracting BBC 6 music and BBC Radio 2 support – including a converted session with Cerys Matthews and, quite rightly, he now has a number of international tours and Festivals in the book for 2020. His jaw dropping, entirely natural sounding and unforced/unschooled skill on acoustic guitar, matched with an authentic 'Belfast blues' voice, brings to mind comparisons with many from (Glasgow born) John Martyn to Rory Gallagher, with nods to many in-between, not least perhaps the likes of Van Morrison and Foy Vance.
In 2019 (his debut year) Dom has undertaken two very successful UK tours, as well as playing many festivals including the International Guinness Blues on The Bay Festival, The International Rory Gallagher Festival at Ballyshannon (including the final night Big Top stage, The Letterkenny Rhythm and Blues Festival, a 5 show tour in Moscow, The Great British Rhythm and Blues Festival in Colne Lancashire, The Harvest Time Festival in Monaghan, The Canterbury Festival in Kent and he also made his mainland European debut in Switzerland at the Blues Zeppelin Festival.
Dom has opened for Elles Bailey and Jo Harman and has also been asked by noted promoters AGMP (and indeed Jo Harman herself) to be special guest support to the (US Grammy Winner) Mike Farris/Jo Harman big double bill London show on Wednesday 22nd January 2020 at the prestigious Under The Bridge venue, in Chelsea.
Dom was Recently awarded Best Solo/Acoustic Act in the European Blues Awards 2019 so all in all, pretty impressive for his debut year and a very impressive and personal debut album indeed!
"Absolutely wonderful Stuff" – Cerys Matthews, BBC Radio 2
"A rare talent of SUCH sheer genius" –  Blues in Britain
"That was really special" – BBC Radio Ulster
_________________________________________
Source: https://www.dommart.in/about
_________________________________________