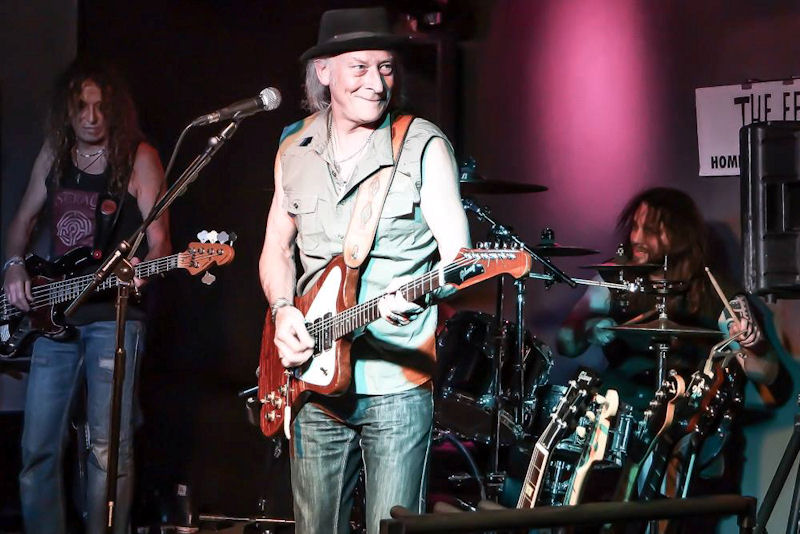 Del Bromham was born in West London – East Acton to be precise – and made his first public performance when he was 13 years old! This happened almost by accident due to one of the guitarists in his brother Allan's group, called The Traders, leaving unexpectedly a week or so prior to a gig. As Del had sat and watched them rehearse every week for as long as he could remember, he knew most of the songs, so his brother Allan suggested to the rest of the band to let Del have a try out. At this time Del had only been playing guitar for about two years, but all the songs in their repertoire were ingrained in his subconscious! So much so that he played the gig, which was about a four hour show, after only one or maybe two rehearsals, and ended up staying with the band for a further three years, leaving only when his own band, which had formed at school when he was fifteen years old, started to take off and found it difficult to continue with The Traders. The band he formed was called Stray (back then it was The Stray) and that has virtually been his life's work ever since.
Stray released their first album back in 1970 when the average age of the band members was about 17. Over the years Del has recorded eleven studio albums and three live albums with Stray, and has been on countless tours and one night stands rubbing shoulders with too many artistes to list! In recent years, the earlier albums have been re-released and have continued to sell well, continually finding new audiences.
Del says "When I was a child, even before I went to school, there had always been music playing in the house. My dad loved his gramophones and later the latest stereo systems. He had joined a record club and we used to have all kinds of records come through the post. I had three older brothers who were into all kinds of music and of course my brother Allan had his bands. The guitarists in my brother's band often left their guitars at our house, and sometimes I'd pick one up and pretend I was playing all the songs of that time.
When Allan got married and moved out of our house, he went downstairs one day and found that someone had dumped an old acoustic guitar in his dustbin! He gave this guitar to me and that is when at about eleven years old I started to learn to play the guitar. Please forgive me if this sounds a bit big-headed, but I really don't remember actually learning to play guitar as such. It's like I'd spent all my life up until that point being around music and guitars, that when I got one of my own, I could play it. It really was as simple as that!"
"I didn't know how to tune the guitar, so I tuned it how I thought it should be tuned. As it turned out, I used to tune it in the key of E which transpires is how some of the old blues men used to play using bottleneck style. I was later shown the correct way to tune it and learned all the chords properly. I don't know why, but very soon I found I was writing my own songs. I think I was about twelve years old when I wrote my first song called 'Someone'. I've been writing them ever since, so you can imagine I've written quite a few!"
It wasn't until 2004 that Del recorded his first solo album, 'The Devil's Highway' which, unusually for Del, was a more blues-based album with a combination of old songs which he remembered from his childhood and some self-penned songs in the style of the old blues masters. This coincided with the time that Del was asked to accompany and tour with guitarist Leslie West on his "Blues To Die For" tour.
This was the first time that Del had played a completely solo acoustic set with no backing whatsoever. From this point Del decided to do more acoustic shows and then later formed a side project from Stray, known as Del Bromham's Blues Devils.
Over the years Del has worked with Leslie West many times, and while accompanying Leslie on his 'Blues To Die For' tour, Leslie and Del got together and wrote a song called 'To The Moon'. It was not until some years later in 2011 that this song was included on Leslie's album 'Unusual Suspects' – an album which also included guest appearances from Slash, Billy Gibbons, Zakk Wylde, Joe Bonamassa and Steve Lukather. "Not bad company to be in!" mused Del.
2008 was the year that the Stray line up of Del Bromham, Karl Randall (drums) and Stuart Uren (bass guitar) worked with top producer Chris Tsangarides to record the album 'Valhalla'. This album was initially only available on the band's website or at live shows in January 2009. The album received critical acclaim from fans and music press alike. In fact by the end of the year, 'Valhalla' was voted 'Best album of 2009' by Get Ready To Rock magazine. The following year, 2010, the album was picked up and officially released by Angel Air Records and continued to collect even more great reviews worldwide.
This marked the beginning of a good relationship between Peter Purnell, 'MD' of Angel Air Records, and Del Bromham. Angel Air Records got to hear the Devil's Highway album and released it with additional bonus tracks in May 2011. The album received some of the best reviews Del had ever received on an album release! Although as mentioned earlier the album was originally recorded back in 2004, Del went into Rock Hard Studios with engineer Nigel Hart and recorded 5 more songs (as the bonus tracks).
In September 2012, Del received a 'Lifetime Achievement In Music' award at The Newark Blues Festival, along with Tony McPhee (The Groundhogs) and Andy Fraser (Free). It was time, and long overdue, to record another solo album. So Del called up his friend and engineer Nigel Hart, to initially record a few songs as demos at Rock Hard Studios, to get a feel for what direction the new material should take. Del was so pleased with the results that 14 new songs were recorded and mixed at Rock Hard Studios. Del felt there was no need to record elsewhere as this was exactly the sound he was looking for. On hearing the new songs, Angel Air Records had no hesitation in asking Del if they could once again work together and release the new album on their label. The new album titled "Nine Yards" was released on 2nd September 2013.
Bio and photo source: http://www.stray-the-band.co.uk/delbromham/bio.htm