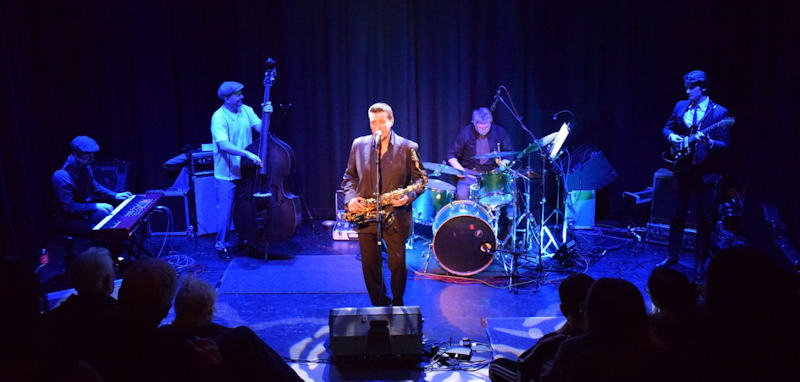 "this is one that will stay on the CD player for a while"
–  CD Review – Blues Matters Magazine
"If you are a fan of classic R&B as put out by the likes of Louis Jordan, Roy Milton and Joe Liggins…then Deke's your man"
–  Tony Watson, Blues and Rhythm Magazine
"swings like the clappers. The songs are great! We've been playing your CD in the van on our way to gigs"
–  The Jive Aces
"the Guy is excellent. Often reminds me of Lee Allen. He has done his homework. I will continue to check him out"
–  John Firmin, The Johnny Nocturne Band
"I love it!! You get the exact sound that I wanted for that Mouthpiece …Killer Killer Sound!!"
–  Mark Sepinuck, 10mfan Mouthpieces
_______________________________________
With the authentic sound of the Saxophone led Small Big Bands of the 40s and 50s, Glasgow based Quintet 'The Deke McGee Band' perform their own brand of Vintage Rhythm n' Blues.
As individuals the members of the Deke McGee Band have played with and shared the stage with International Artists such as Buddy Guy, Joe Walsh, Hamish Stuart, Bill Wyman and his Rhythm Kings, Zoot Money and many others…
They're also regulars on the UK scene, and have played alongside home-grown artists such as The Sensational Alex Harvey Band, The Fratellis and too many more to mention.
As in-demand Sidemen they have performed all over the world at Jazz and Blues Festivals in Montreal, Toronto, Ottawa, Antwerp, London, Dublin and numerous other places.
Mark 'Deke' McGee – Vocals, Tenor Saxophone.
Tim Brough – Piano, Hammond Organ.
Conor Smith – Guitar.
Sy McBain – Double Bass.
Gary Woodside – Drums.
Mark 'Deke' McGee started playing Saxophone at the age of thirteen, after hearing Bill Doggetts 'Honky Tonk' played by the legendary Clifford Scott. He began studying the sound and the stylings of all the great Swing and Rhythm n' Blues horn men of that era; Arnett Cobb, Illinois Jacquet, Herschel Evans, Lee Allen, Sil Austin, Red Prysock, Big Al Sears, Plas Johnson, Sam 'the man' Taylor and the great Texas Tenor King Curtis.
He began working as a sideman with bands all over Europe and North America at many Jazz and Blues Festivals. This saw him recording, supporting and sharing the stage with names such as Buddy Guy, Eagles guitarist Joe Walsh, Big Joe Turner's Memphis Blues Caravan, Hamish Stuart, Bill Wyman and his Rhythm Kings, Phil Guy, Lazy Lester, Sugar Blue, Zoot Money, Otis Grand, George Melly, The Fratellis, Band Of Friends, Martin Stephenson, The Sensational Alex Harvey Band, Big George and the Business, The Nimmo Brothers, The Cobramatics, The Beatstalkers and many more.
Deke began writing and recording his own material in 2003, but put the project on hold for more than a decade whilst he built up his reputation as a teacher of the saxophone. In 2015 he started recording again and assembled "The Deke McGee Band" to showcase his original material live for the first time. "All Night Long" was released in April 2016.
_______________________________________
Source: http://www.dekemcgee.com/bio/