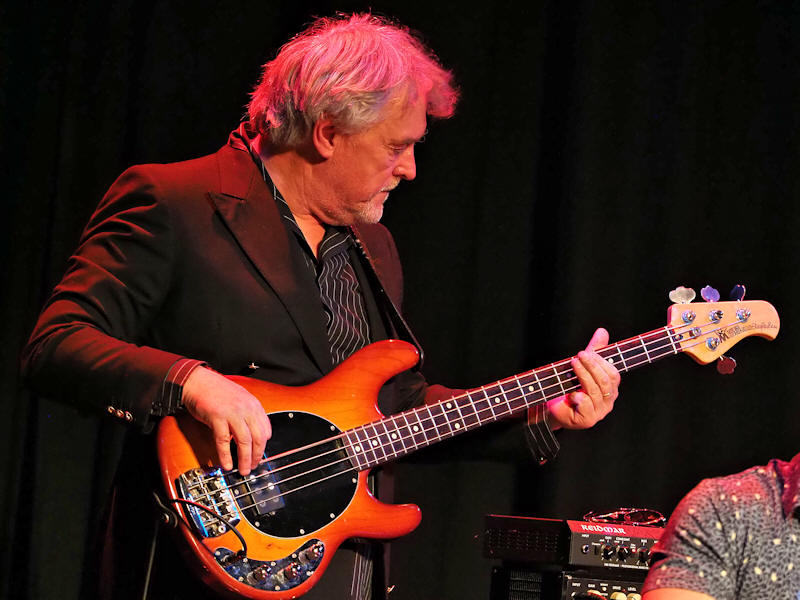 How the Story started – by Chris Bevington
I decided to put this together because I get asked lots of questions about how the band originally got together, why did it happen and when did it all start. I guess you can blame me for everything and it all started as an idea back 2012, on a beach in North Wales and that's why you see pictures of Rock n Roll, Festivals and Events mixed in with pictures of mountains and scenery, and really the two are very linked, especially at the start.
I guess the story begins as I celebrated my 50th birthday and like most people I guess you take stock of things and what you have done and also more importantly what you want to do or try to do in the future.  I have always played music in Bands since I was 15, whether that be Rock bands or Blues based bands and have also enjoyed time in bands that played lots of different styles of music, but my heart always comes back to Blues Music. One of the difficulties I've always faced in music is that I don't sing or write music and I play the Bass and normally stood at the back (I still do that!!), so really I wasn't in a great position to start a music project really, and added to this my confidence was pretty low – I knew that if I got a lot of bad feedback then it would all crash and burn pretty quick. So, based on all the skills I was missing I decided to try and go for it ……. not like me at all really
So, in 2012, I spent some time in Wales and around the Snowdon area and having lots of walking and thinking time I put together a little plan and hoped it would work.  There was a number of questions first – what type of music should I play, it would need to be a version of other people's tracks for start, and how many tracks should I try, where should I record it and who should I ask to join me. The original plan was to record four tracks, that's all and it was never planned to be an album. Also it was never planned to be released or anything, it was purely to see if I could create, with friends, a style of Blues that was made up of Brass instruments, Slide Guitar, Full vocals, keys and to create a "happy , upbeat bluesy feel".
The next step was to find some tracks to consider, again this was all very new to me, I had never picked tunes before, so I set off looking for tracks and ended up with 100!!, I guess this confused me more than anything, because I started to realise that I would need to ask some good musicians to join me to pull it off and I didn't have a clue who they could be at that time
As I got the list of tracks down to 20, it started becoming clearer what style I was liking and maybe which Musicians would be interested to help me. The next job was to find a Recording studio and then ask some musicians.
So, in 2013, I went to visit Dan Rowley at Tremolo Recording studio and explained my story. I felt very happy and relaxed, and we agreed to start in 2013. The next job was to invite the guest musicians, I knew they may say no or be too busy, which is fair enough really, there was no rush at all and no end date so there was no pressure.  I booked the studio for May 2013 and planned to record 4 tracks, "Dark Side of Love", "Somehow, Somewhere" and "Let me Know" and that was the beginnings of the recording. It was a difficult start and the whole Project nearly failed the night before due to musicians availability but we managed to put the 3 tracks down and then it was the job to invite the guest musicians in and thankfully they said yes and that's how the story unfolded –  Scott Ralph, Jim Kirkpatrick, Paul Burgess, George Glover, Andy Carr, Jamie Bannister, Aidan Goldstraw, Mark Hargreaves, Sarah Miller, Rob Wilkinson and many others helped and supported me and eventually the 3 track demo grew into a 11 track Album and the rest is as they say history!!
It was a delight to do and when, in December 2013, it was finished I was delighted.  So – what next was the question and this was very uncharted waters for me and maybe the most frightening. I could have left it there and been happy with the Project, shared with Friends and that would have been ok I guess but I was asked to send a copy to Mike Habblett at The Robin 2 in Bilston and although a little concerned sent it off. Two days later Mike loved it and offered me 6 Gigs at the Robin 2 – and the band was created!! From there the Album made its way to UK, European Radio stations and I started getting reviews. This was the most unnerving part –  these people review loads of CDs every day and I was half expecting to be on the end of some negative comments. This was the start of the amazing adventure, we had 50 reviews all over the world and not a single bad point, incredible really, the Airplay grew and grew and the next thing you know we are in the UK Blues charts and then the Blues Charts in the USA!!!.
So from this humble start the album makes its way all over the world, USA, Washington DC, Mexico, Brazil,  Australia, New Zealand, Europe, Russia, South Africa, just about everywhere and the next thing you know I am up for a Blues Award for Bass playing and we are offered the Main stage at The Great British Blues Festival Colne 2014!!!!
I was ticking off my bucket list daily at one point!!!
So that's how it all started back in 2012 and now we are on the third Album after a wonderful second album with Guests such as Robert Hart, Rebecca Downes, Pete Frampton and many others – just wonderful – Airplay by Paul Jones on BBC Radio 2, gigs at Upton, Cambridge, Lymm, The Robin and many others …
I always keep very close to my little church in North Wales by the Sea and sit there for some chill out time and my mind drifts back to 2012 and the time I had this crazy little idea that grew into this fantastic Project.
________________________________________
Photo courtesy Alan White
Source: http://www.chrisbevingtonorganisation.com/the-chris-bevington-story/