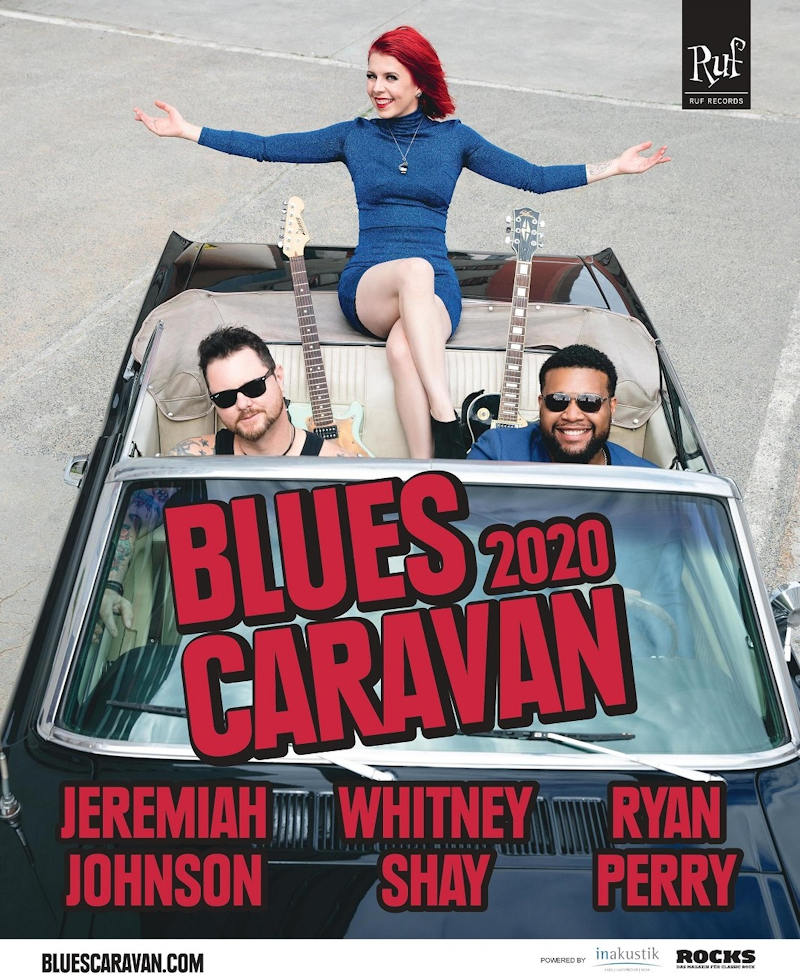 Ruf Records' Blues Caravan is unstoppable. Fifteen years after Europe's most respected label put on its first showcase tour, the founding concept is instantly familiar to blues fans: every night, on club stages across the US and Europe, three rising talents will burn down the house and kick the blues into the modern age. But there's a twist. With the line-up chosen each year from the cream of the Ruf roster, every Caravan has a fresh vibe, a fizzing chemistry and plenty of flying sparks. And with three wildly different artists running the gamut of styles in 2020, all bets are off.
Jeremiah Johnson is the St. Louis bluesman from the school of hard knocks. After early days as the Southern circuit's best-kept secret, 2018's acclaimed Straitjacket album put the bandleader in the spotlight with its searing performances, smart hooks and blue-collar lyrics. "I am Southern blues-rock," states Jeremiah. "It's in my blood, my heart and my soul. I always sing my songs from my heart, with the same passion that I had when I wrote them. They come from the blood, sweat and tears of a blue-collar worker in the Midwestern United States. I couldn't be more excited about the Blues Caravan line-up – it'll be hotter than a two-dollar pistol!"
We first met Ryan Perry as a teenage phenomenon, when he hijacked 2007's International Blues Challenge in Memphis with his Homemade Jamz Blues Band, and announced his talent for sharp storytelling, stinging guitar and soulful vocals. This charismatic bandleader's talents have only grown over the last decade, and following 2019's solo debut on Ruf Records, Ryan is the finished article, armed with a setlist to raise the roof. "Fans can expect high action and low ego on the Blues Caravan," he says. "My live shows are packed with passion and soul, always fun and full of energy – as only a Mississippi bluesman can deliver."
There's no mistaking Whitney Shay. When this San Diego fireball hits the stage, the first thing you'll notice is the flammable hair and sparkling dresses. But on this year's Blues Caravan, the singer's show will match her style, as Whitney shakes out the R&B floor-shakers from her acclaimed A Woman Rules The World album – and gives you a sneak preview of the studio material to come. "When I perform," she says, "I want people to dance and be engaged. To me, blues has always been about catharsis, the purging of sad experiences. If I can make the audience leave smiling and feeling like they've forgotten about the troubles of their day, I've done my job.
__________________________________
Source: http://www.rufrecords.de/index.php?option=com_content&view=article&id=511:blues-caravan-2021&catid=12&Itemid=101&lang=en
__________________________________