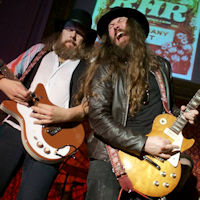 RHR is the new powerhouse band featuring the triple guitar-frontman lineup of Troy Redfern, Jack J Hutchinson and Mike Ross. The band's lineup is completed by Darren Lee (WeaponUK) on drums and Jack Browning (Aaron Keylock) on bass.
Mixing the best of southern rock, americana and blues, the group are also heavily rooted in the jam band scene.
Explaining how the collaboration came about, Hutchinson comments: "It was a case of 'let's throw some tunes in a hat and see what happens'. Individually we've got our solo careers but there's something special about collaborating with other musicians. No egos – let's make some kick ass music!"  Ross adds: "We discussed the power of multi-guitar bands, such as the Allman Brothers, Little Feat and the Black Crowes. There's something magical about that shared moment where they are playing off once another. It almost takes you to another dimension."
This autumn RHR will release their debut album, 'Mahogany Drift'. Featuring 11 new original tracks, it was recorded at the legendary Brighton Electric with producer Al Scott (Levellers) at the helm.
Highlights include the glam-stomp of 'Rapture', the Black Crowes meets Little Feat space blues of 'She Painted The Moon' and the Led Zeppelin on acid blues of 'Judgement Day'.
______________________________________________________________________
Source: https://www.facebook.com/pg/RedfernHutchinsonRoss/about/?ref=page_internal
______________________________________________________________________
Mike Ross
Passionate and intoxicating, Mike blazes his own unique trail – fusing his love and command of blues and roots music to create a unique blend.   Since his re-emergence to the circuit in 2015 he has charged up the ranks to stand with the best known names in the UK blues and roots rock scene.
"A Monster Toned Space Blues Monolith!"
– Blues In Britain
Born and raised in the Great North but living these days down in the Southland with a steady mind and a thoroughbred plan, Mike writes soul wrenching songs that will make you desperate to share the tale of his life's journey and the lessons he's learned.
"hypnotic blues that revel in dark menace"
– Planet Rock Magazine
This winding road leads from England to Europe before jumping the Atlantic to New York, detouring way down south to Memphis and New Orleans via Clarksdale Mississippi and Nashville Tennessee, soaking up every scent and sound along the way before fetching up on the shores of Sussex with a lifetimes worth of tales to share.
"This lad from the far North East has distilled the essence of the Deep South and West Coast of America"
– Blues In Britain
Mike takes listeners on a uniquely detailed and image packed history tour of the history of the music of the music he loves to play, with influence taken from the whole range of 20/21st century American music –  beginning in the Mississippi Delta and ending up right back in the present moment with his powerful emotive voice and intoxicating virtuosic guitar playing carrying you every inch of the way.
"Fuzzed up, fierce and full frontal fiery attack coupled with sexy, smooth slidin', southern soul!"
– Mojo Magazine
To experience Mike playing solo or with his band egging him on is to see why one reviewer declared him 'burnt in blues & soaked in soul'.
His first solo album, the Americana-tinged 'Spindrift' was released to critical acclaim and reveals an introspective side to Mike's songwriting and performing.  The next album, "Jenny's Place", boasts a fuller and more muscular set of performances.  The textures found here are thicker and sinewy, from the highway rolling 'Dakota Red' and the agonized blues of 'Dark Dowder' to the Petty-esque choruses and melodic structure of forthcoming single 'Jenny (Sun Goes Down)' and the bar-room swagger of 'The Big Picture' or 'Baby, I Love You'.  Released 2nd March 2018 (with the first single landing a month earlier), bloggers and reviews alike agree that Jenny's Place is a career-defining record, described by one writer as "This is modern contemporary music, crossing and melding genres" and by another as "A classic 21st-century album full of 20th-century soul." One track 'Coffeecan Telephone' has been streamed nearly 50,000 times on Spotify.
"Mike is clearly a cut above, a genuinely superior exponent of the form"
– Blues Matters
Press and radio support is strong with Mike continually receiving airplay on both national and international radio stations (including a recent spin by Paul Jones on his BBC Radio 2 show), particularly tracks like the latest single 'Jenny (sun goes down)', 'Dark Powder' (a brooding 12/8 minor blues) and 'Coffeecan Telephone'.   The final release of the year – he Stephen Stills classic 'Love the One You're With' has proven a firm favourite amongst fans & DJ's alike.
"With a tight band behind him, he has turned the soul classic into an inspiring and revival driven southern blues, rock, and soul infused masterpiece"
– Folk and Tumble
The calendar for 2018 was jam packed with fantastic shows, headline tours in the UK & Europe with the band appearing at many of the most prestigious UK blues & roots music festivals.
In addition, 2018 has been a year of extensive studio work, producing no less than three new original albums – a new solo record recorded in Nashville (The Clovis Limit) plus a "Mike Ross Band' recorded at home in the UK.  At the same sessions for the MRB album, new collaboration RHR (Redfern, Hutchinson & Ross) recorded their debut album 'Mahogany Drift'.  Released in November, it has been an unqualified success, –  garnering high praise in review (including an 8/10 score in Classic Rock Magazine).  The RHR tour of the UK in October was triumph too with many sell-out shows.
"Songwriting strength in depth"
– CLASSIC ROCK MAGAZINE
Plans for 2019 include further touring of the UK, Europe, Scandinavia and the USA.  New solo album 'The Clovis Limit' is scheduled for release in April.  There are additional plans for an RHR tour in May plus several European festival shows through the summer too.
______________________________________________________________________
Source: Facebook