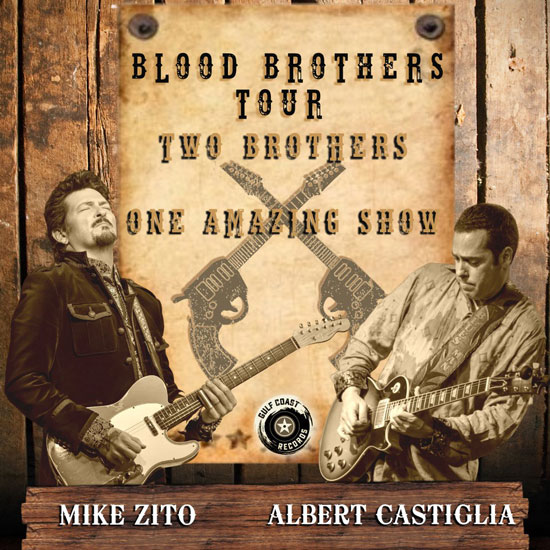 Gulf Coast Records USA announces what promises to be THE blues music tour of the year: "Blood Brothers," featuring Blues Music Award-winners Mike Zito and Albert Castiglia.
Mike Zito and Albert Castiglia come together to create a musical journey unlike anything seen before in the Blues and Roots genre. Armed with a history of the Blues and Rock 'n' Roll, they bring both bands together to create the tour of 2022, "Blood Brothers."
And because their fans can't seem to get enough of a good thing, the bands will also be touring together from March to May covering Memphis to Florida to Texas; with a West Coast tour in the fall and the European/UK tour in October which brings them to Carlisle to take part in the increasingly popular Blues Rock Festival 2022.
Both Mike Zito and Albert Castiglia are celebrating the release of blazing new albums: Zito's double live set, Blues for the Southside debuted at number one on the Billboard Blues Chart; and Castiglia's new disc, I Got Love, for release in March. For the "Blood Brothers" tour, fans will get to see each band doing a set, followed by both bands uniting onstage for a grand finale.
Mike Zito is a five-time Blues Music Award winner and Albert Castiglia is the 2020 BMA winner for Blues Rock Album of the Year, Masterpiece.
The "Blood Brothers" tour is a high-energy show of epic proportions! Daring and full of excitement, Albert and Mike come together in 2022 to bring you the most-awaited tour in years, "Blood Brothers"! The tour will showcase each band for a set and then will end with both bands together onstage creating a sound of classic southern rock, blues and American roots music.
"Mike Zito is, indeed, everything people say he is and more and the proof is in every song on this set. This is as good as modern blues gets." – Rock and Blues Muse
"It may be a bit premature to crown Albert Castiglia America's newest King of the Blues, but there's little doubt that he at least deserves the title of heir apparent." — Miami New Times