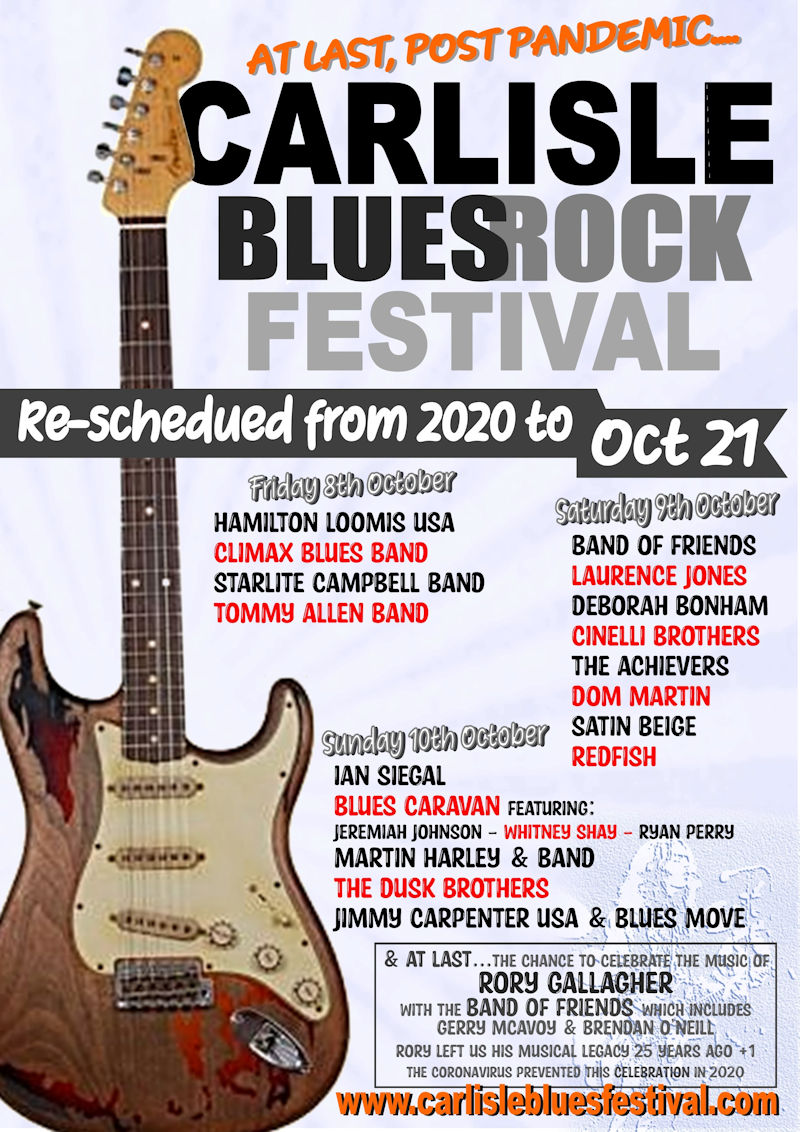 LIGHT AT END OF THE TUNNEL …                                                           
                                                            RETURN OF LIVE EVENTS …
AT LAST … A WEEKEND OF TOP CLASS LIVE MUSIC TO LOOK FORWARD TO IN CARLISLE
I do hope you all are staying safe and keeping well.
It's been a long cold, damp winter and I'm sure, like me, everyone is feeling the isolation of the latest lockdown. This most recent 'lockdown' has been the toughest, it seems like everyone has just had more than enough.
At last after many months we now have light at the end of the long, dark tunnel. The government has produced its 'road map' as a route out of the lockdown misery which has, at last, given everyone in the country some hope.
We shouldn't wish our time away but June 21st and the end of 'social distancing' can't come quickly enough. Am I alone in thinking I never want to hear that term again?
Luckily there are 14/15 weeks from the official end of social distancing measures in June, to the rescheduled festival in October. That should provide the time for life to return to some kind of normality which will enable the event to take place in a totally safe environment. Hugs, kisses and handshakes have never felt more appealing!!
Personally, I have realised how much I have missed gigs, from small pubs to Blues Festivals to arenas. I have decided during this last lockdown that I will get out to lots more events and that I'll no longer find excuses not to travel to live gigs nor grumble about prices.
Anyone else find themselves doing the same?
Finally, I'd just like to provide reassurance that, should the event have to be cancelled or postponed due to any further unforeseen circumstances, there is a policy in place for ticket refunds which includes a full refund on accommodation for those who purchase the festival Package Deals
Hope to see as many of you as possible in October.
Nick Westgarth
Festival Director/Organiser/Promoter
________________________________________________________________________________________________________
Here are clips of all 2021 festival artists …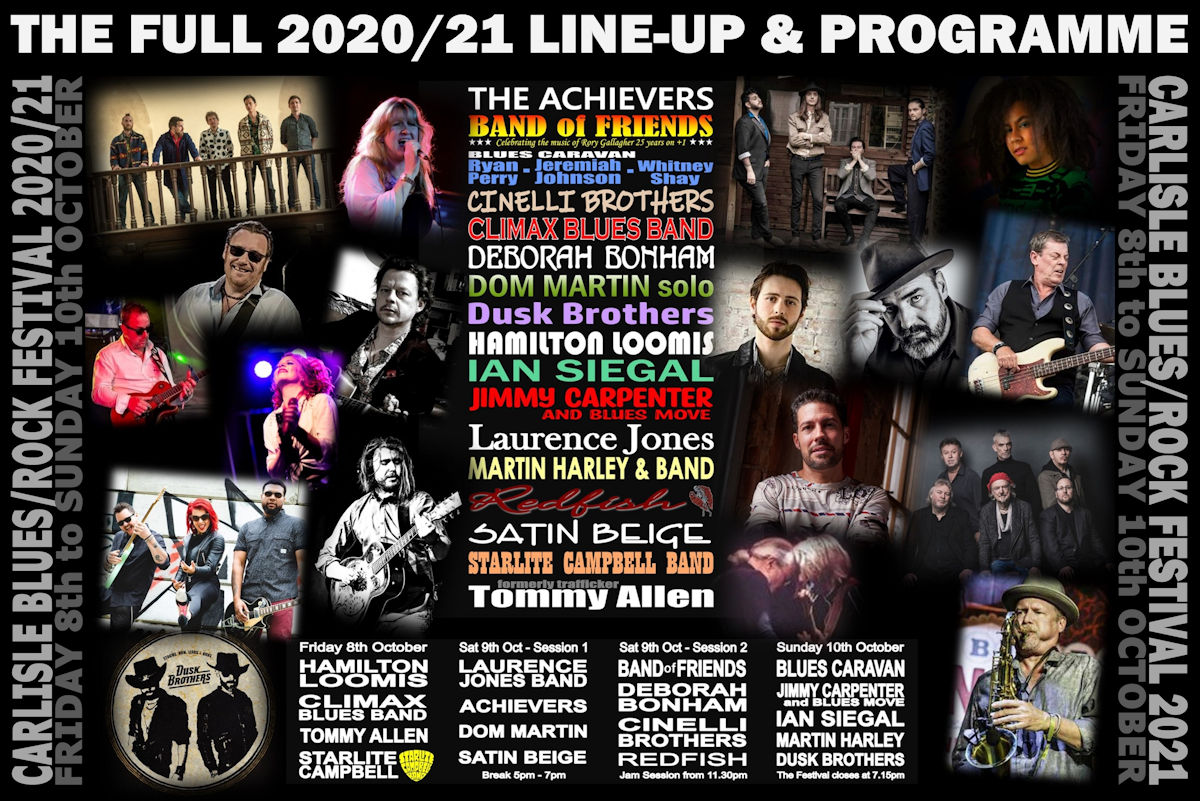 The festival received a nice message from a famous name in the music world.

Band News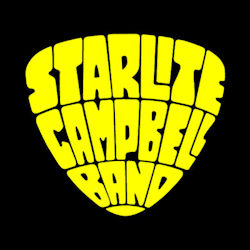 Starlite Campbell Band
New album, 'The Language of Curiosity' by European & British blues award nominees Starlite Campbell Band is available for pre-order now – http://loc.starlite-campbell.com – a fresh taste of British blues.
The band has just signed an international's distribution agreement for the new album and back catalogue – they release everything though their own label Supertone Records and now have one of the UK top PR companies working on the new album. It's really happening for them!
The Starlite Campbell Band – Friday 8th October.

BAND OF FRIENDS Celebrating Rory's 25th anniversary
Band of friends should have been touring throughout 2020 Worldwide, celebrating the music of Rory Gallagher 25 years after he left us. That celebration will be just as impassioned one year on. Gerry McAvoy will be joined by Brendan O'Neill on drums. Brendan played with Rory and Gerry for 10 years from 1981 – 1991, Recording "Jinx", "Defender", "Fresh evidence". He also toured extensively with Rory, travelling to USA, Japan, Australia and throughout Europe.
The extended band of friends for the festival will include both Paul Rose and Stephan Graf.
Paul has played with some of the top names in the business, he's a real a guitar players guitar player. As youngster Paul was picked by Rory out of 1000 young guitarists to win the Fender sponsored best guitarist competition. "A very hot player" – Rory Gallagher.
Stephan has been playing with his own band Double vision, as a tribute to Rory. Stephan discovered Rory at a very early age. He really has the feel for Rory's music.
"In the era of tribute acts who deliver note – perfect renditions of their heroes' catalogues, the Band of Friends is something different. They can do the notes but they also do the sound, energy and feel – because the band includes people who helped define those essential elements" – Music today USA
___________________________________________________________
Sponsors Rescue Festival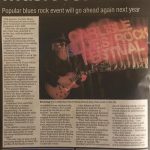 Click here for article in 'The Cumberland News'
____________________________________________________________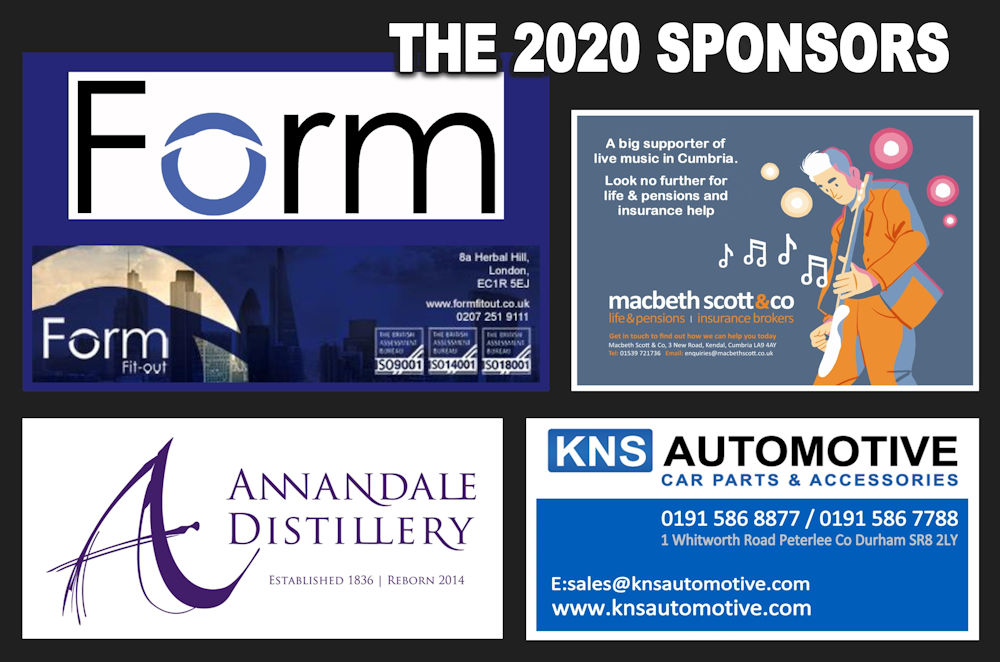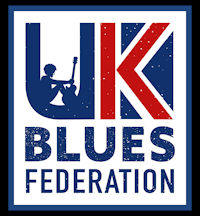 Supported by UKBlues Federation
______________________________________________________
For now browse and reminisce the 2019 Festival ….
Reviews & Photos of the 2019 Festival: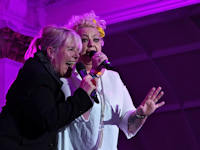 Click here for the 2019 Reviews
Click here for the 2019 Photo Gallery (EarlyBlues.com)
______________________________________________________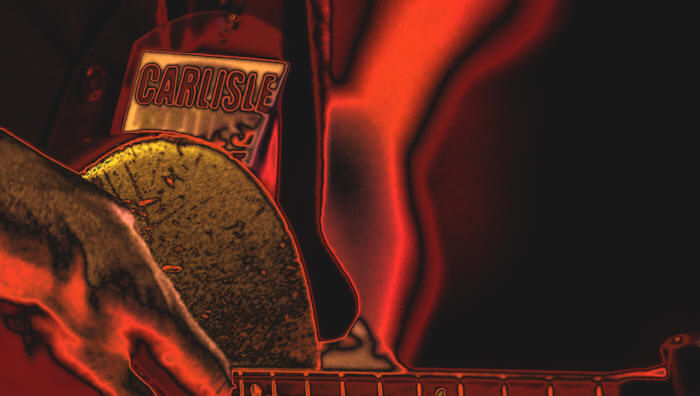 ____________________________________________________________